Egg white protein powder is one of the most popular forms of muscle-building supplements available on the market today. It's an excellent source of high-quality, complete proteins that can help athletes and bodybuilders increase their strength and muscle mass.
But with so many egg white protein powders to choose from, it can be difficult to narrow down your options. In this article, you'll learn all about egg white protein, including nutritional value and alternatives, and give you our picks for the top five best egg white protein powders available to you.
What is Egg White Protein?
Egg white protein is a type of protein extracted from egg whites. The egg white liquid is found surrounding the yellow yolk and appears clear when uncooked. It's one of the most popular forms of complete proteins and is highly bioavailable, meaning it's easily absorbed by the body.
Egg white protein powder does not contain any fat or cholesterol. This makes it a great choice for those looking to get lean muscle gains without adding unnecessary calories to their diet. It also contains all nine essential amino acids that your body needs to build muscle.
Top 5 Best Egg White Protein Options (in no particular order):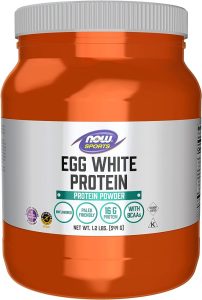 Serving Size: 1/4 cup
Protein: 16 grams
Carbs: 2 grams
Sugar: 1 gram
Calories: 80
NOW Sports Nutrition Egg White Protein
has gained favor among consumers who seek a trustworthy and high-quality protein supplement for their athletic needs. NOW's comprehensive testing ensures the purity and effectiveness of their products, making them a reliable choice for athletes at every level.
With an impressive 16 grams of protein per serving, this product stands as an excellent natural source of high-quality protein. It ranks well on the Protein Digestibility Corrected Amino Acid Score (PDCAAS), the gold standard for measuring protein quality. In fact, NOW Sports Egg White Protein rates as one of the highest quality proteins available using the PDCAAS. The product is backed by a GMP Quality Assured certification, highlighting the rigorous examination of every aspect of the manufacturing process. Packaged by a family-owned and operated company since 1968 in the USA, it assures users that they are investing in a high-quality protein supplement that meets their athletic and dietary needs. Additionally, the pasteurization of the egg white powder inactivates avidin glycoprotein, eliminating the need for biotin fortification, adding to the product's appeal. Overall, NOW Sports Nutrition Egg White Protein has established itself as a reliable, high-quality protein source for those in pursuit of their athletic goals.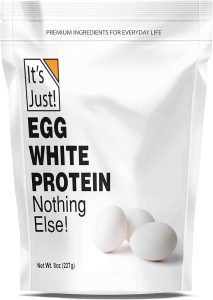 Serving Size: 2 tbsp
Protein: 13 grams
Carbs: 1 grams
Sugar: 0 gram
Calories: 70
It's Just! Egg White Protein Powder
has won over customers with its unbeatable combination of quality and affordability. Users have found that this product offers the highest quality while maintaining wallet-friendly prices, ensuring they get the most value for their money.
The purity of this product is a standout feature, and customers trust that it's sourced and packaged in the USA by a GMP compliant facility that adheres to strict quality standards. With just one ingredient—pure egg whites—customers appreciate the transparency and simplicity, knowing precisely what they're putting into their bodies. Its unflavored nature provides versatility for culinary creations without altering the taste, making it an ideal choice for those who seek a versatile protein source. Additionally, the product's suitability for keto baking has been celebrated, as it seamlessly incorporates into low-carb recipes, making it a go-to for those following a keto diet or aiming to reduce carb intake. It's Just! Egg White Protein Powder has clearly impressed users as an affordable, pure, and versatile protein source that meets various dietary needs.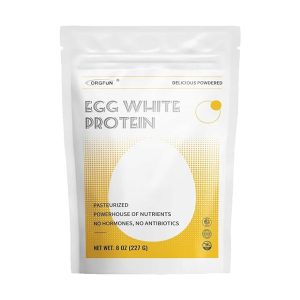 Serving Size: 1 tbsp
Protein: 13 grams
Carbs: 0 grams
Sugar: 0 gram
Calories: 55
ORGFUN's Egg White Powder
is a game-changer for those seeking the convenience of fresh egg whites without the hassle. This product stands out as it's freeze-dried and pasteurized, ensuring that all the freshness, flavor, and nutritional value of egg whites are perfectly preserved, and it achieves this without any preservatives or additives.
What sets ORGFUN apart is its commitment to purity. With just one ingredient – 100% Dried Egg White Powder, this product is a natural and healthy choice. It contains no hormones or antibiotics, and it offers a range of health benefits. Unlike protein powders laden with overpowering sweetness, ORGFUN's Egg White Powder maintains a smooth and mild flavor that can be enjoyed daily. Whether you're mixing it with your favorite beverage or using it in omelets, scrambled eggs, or baking recipes, this product tastes just like fresh egg whites. The convenience factor is further enhanced by its easy mixing and a resealable container that keeps it fresh and ready to use. Proudly made in the USA and packaged with care, ORGFUN's Egg White Powder is a versatile addition to any kitchen, offering the goodness of egg whites in a convenient, mess-free form.
Serving Size: 34 grams  (about 2.28 tablespoons)
Protein: 25 grams
Carbs: 2 grams
Sugar: 1 gram
Calories: 110
Gaspari Nutrition's Egg White Protein
is a game-changer for anyone seeking a premium protein source that's both pure and efficient. This product distinguishes itself by harnessing the power of 100% egg white protein, widely regarded as the purest protein source nature offers. Not only does it boast a remarkable essential amino acid composition, but it also excels in terms of digestibility and the bioavailability of amino acids, leaving its competitors, such as whey and plant-based proteins, in the dust.
For those looking to build lean muscle, Gaspari Nutrition's Egg White Protein is a clear winner. It's been found to be 21% more efficient in this regard compared to whey protein, and it outperforms all other protein sources when evaluated against various scales of protein quality. What's more, this product upholds Gaspari Nutrition's commitment to pure and clean supplements. It's free from dairy, lactose, hormones, antibiotics, artificial flavors, colors, and sweeteners. With Gaspari's dedication to science-backed ingredients and clinical research, you can trust that this product is both safe and effective. In addition to its stellar formulation, it's available in a variety of enticing flavors, including Banana Nut, Chocolate, Coconut Custard, Peanut Butter, Rocky Road, and Salted Caramel. Gaspari Nutrition, with over 30 years of experience, delivers on its mission to provide the highest-quality, science-based sports nutrition supplements in the world. If you're serious about your fitness goals, this product deserves a place in your regimen.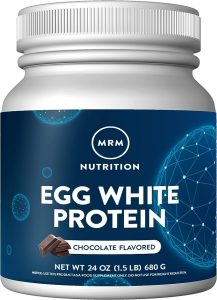 Serving Size: 33 grams (about 2.21 tablespoons)
Protein: 23 grams
Carbs: 4 grams
Sugar: 0 gram
Calories: 120
If you're an athlete, whether elite or recreational, the
MRM Nutrition Egg White Protein
is a game-changer you'll want in your arsenal. This product stands out for its dedication to supporting lean muscle growth with a fat-free protein source derived entirely from 100% egg whites. With a substantial 23g of protein per serving, it's a powerhouse that guarantees results.
One of its key strengths lies in its exceptionally high biological value, thanks to naturally occurring essential amino acids and sulfur-containing proteins. What's impressive is that it offers this premium protein without any cholesterol, fats, or carbohydrates, ensuring that your daily protein requirements are met without the added burden of unwanted macronutrients. Plus, the addition of enzymes and probiotics for gut health is a thoughtful touch that sets this product apart, promoting not only a strong immune system but also better digestive health. And with the product's range of delicious flavors and its certifications for being Gluten-Free, Antibiotic-Free, Hormone-Free, and clinically tested, it's a supplement that both athletes and health-conscious individuals can rely on for their fitness journey.
How is Egg White Protein Made?
Egg white protein is made from the whites of chicken eggs. The egg whites are separated from the yolk and then dried into a powder form. This process preserves all of the natural proteins, vitamins, minerals, and amino acids (below) found in egg whites while eliminating any fat or cholesterol:
Histidine:

Description: Histidine is an essential amino acid that plays a role in the formation of histamine, a neurotransmitter and immune system regulator.
Benefit: Histidine is essential for tissue growth and repair. It contributes to the maintenance of the myelin sheath around nerve cells and supports the body's natural defense mechanisms.
Isoleucine:

Description: Isoleucine is an essential amino acid that is part of the branched-chain amino acids (BCAAs).
Benefit: Isoleucine helps regulate blood sugar levels and promotes muscle recovery. It also plays a role in energy production during exercise and helps prevent muscle breakdown.
Leucine:

Description: Leucine is another essential amino acid and a crucial component of BCAAs.
Benefit: Leucine is a key trigger for muscle protein synthesis, making it vital for muscle building. It also supports energy production and helps maintain stable blood sugar levels.
Lysine:

Description: Lysine is an essential amino acid that is involved in protein synthesis and the formation of collagen.
Benefit: Lysine is necessary for tissue repair and growth. It also plays a role in the absorption of calcium, which is essential for maintaining bone health and muscle function.
Methionine:

Description: Methionine is an essential amino acid that contains sulfur, contributing to the formation of other important molecules in the body.
Benefit: Methionine is crucial for the synthesis of proteins and helps support tissue growth and repair. It is also involved in the formation of antioxidant molecules that protect cells from damage.
Phenylalanine:

Description: Phenylalanine is an essential amino acid that is a precursor to the neurotransmitter dopamine and other important molecules.
Benefit: Phenylalanine is essential for protein synthesis and plays a role in the production of various neurotransmitters. It supports mental alertness and can enhance mood, which can be important for maintaining motivation during workouts.
Threonine:

Description: Threonine is an essential amino acid that is required for the formation of proteins and other important compounds.
Benefit: Threonine is involved in muscle protein synthesis, collagen production, and the maintenance of healthy skin and connective tissues.
Tryptophan:

Description: Tryptophan is an essential amino acid and is a precursor to serotonin, a neurotransmitter that regulates mood and sleep.
Benefit: Tryptophan is important for protein synthesis and plays a role in promoting relaxation and improving sleep quality, which is crucial for muscle recovery.
Valine:

Description: Valine is an essential amino acid and a key member of the BCAAs.
Benefit: Valine is essential for muscle metabolism, tissue repair, and nitrogen balance. It also contributes to energy production during physical activity.
All of these amino acids are essential for various bodily functions, including muscle building and repair. Amino acids serve as the building blocks for proteins and are vital for overall health and fitness.
The Benefits of Egg White Protein vs Other Types
Egg whites are one of the most complete protein sources available, meaning they contain all nine essential amino acids like we listed above. They're also low in fat and carbohydrates, making them a great choice for athletes or bodybuilders who want to stay lean while still meeting their daily protein goals.
Additionally, egg whites provide a good source of vitamins and minerals such as calcium, magnesium, phosphorus, iron, and zinc.
What sets egg white protein apart from other types is its high biological value (BV). This means that your body can utilize more of the proteins you consume from an egg white-based powder than it would if you were to consume a protein sourced from plant-based sources.
Egg White Powder vs Egg White Protein
Egg white powder and egg white protein are two different forms of the same product. Egg white powder is made from dried egg whites, while egg white protein is a concentrate of egg whites that has been processed to remove fats and carbs.
Both forms provide you with high-quality proteins, but they differ in their nutrient content.
Egg white powders have more calories and fat than their concentrated counterparts since they're not as highly processed. They also contain more vitamins and minerals such as calcium, iron, phosphorus, magnesium, zinc, selenium, potassium, and B vitamins.
Egg white protein powders are lower in calories and fat, but they don't contain as many essential vitamins and minerals.
Are There Different Types of Egg White Powder?
There are two main types of egg white protein powders: concentrates and isolates. Concentrates are the most common type, but they contain some fat, cholesterol, and other nutrients that may not be ideal for those looking to optimize their nutrition.
Isolates, on the other hand, are a more purified form of egg white protein powder that has almost no fat or cholesterol.
While there are two types, there are also varieties of egg white powder that have a plethora of uses:
Regular Egg White Powder: This is the most basic form of egg white powder. It is simply dried egg whites, typically spray-dried or freeze-dried to remove moisture. Regular egg white powder can be used in recipes that call for egg whites, such as meringues, angel food cake, and macarons. It provides a convenient way to have egg whites on hand without the need to separate whole eggs.
Pasteurized Egg White Powder: Pasteurized egg white powder is made from egg whites that have been pasteurized to kill any potential harmful bacteria while preserving the egg whites' properties. This makes it safer for recipes where the egg whites will not be cooked, such as making royal icing or frosting. It is also often used in protein shakes and smoothies.
Organic Egg White Powder: Organic egg white powder is made from organic eggs. These eggs are sourced from chickens raised according to organic farming standards, which typically means they are free-range or pasture-raised and not exposed to synthetic pesticides or hormones.
Non-GMO Egg White Powder: Non-GMO egg white powder is produced from eggs obtained from non-genetically modified organisms (GMOs). This type of egg white powder is made from eggs that come from chickens fed with non-GMO feed.
Sugar-Free Egg White Powder: Sugar-free egg white powder is specially processed to remove any added sugars or sweeteners. This type is often used in recipes where you don't want any added sugar, such as in savory dishes.
Flavored Egg White Powder: Some manufacturers offer flavored egg white powder, typically with natural flavorings added. This can be useful for making desserts, beverages, and of course – protein shakes.
Vegan Egg White Powder: While not made from real eggs, vegan egg white powder is a plant-based alternative that can be used as a substitute for egg whites. It is often made from ingredients like pea protein or aquafaba (chickpea brine) and is suitable for those following a vegan or plant-based diet.
Is Egg White Protein Powder the Purest and Best Form of Protein?
Egg white protein is the purest and best form of complete protein for muscle building. It's a high-quality source of all the essential amino acids that your body needs to build muscle and grow. Egg whites are also low in fat, calories, and cholesterol, making them an excellent choice for anyone looking to maintain their weight while still getting the necessary nutrients they need to build muscle.
Egg White Protein Bars vs Powders
Egg white protein bars and powders are both excellent sources of complete proteins, but they're not the same.
Egg white protein bars are typically made with dried egg whites, which have already been cooked and then dehydrated for preservation. Egg protein powder is usually made from raw eggs that have been processed into a powdered form.
The advantage of using powder is that it allows you to mix up shakes or recipes without having to cook or rehydrate anything first.
Nutritional Facts of One Egg White
One egg white from a large egg contains
18 calories
0 grams of fat
4 grams of protein
0 grams of cholesterol
It also contains no trans fat or saturated fat and is virtually sugar-free. With 4 gram of protein in egg whites from just one egg, the protein in one egg white is sure to keep you going. However, to build and gain muscle it's recommended (depending on the source) that you should be consuming ½ gram to 1 gram of protein for each pound you weigh, daily. You can learn more about the nutritional facts of an egg white compared to the protein in egg yolk or a whole egg here.
Are There Any Downsides to Egg Protein?
Egg white protein has a few downsides. First, it's not as widely available as other types of protein, such as whey or casein. This can make it difficult to find in stores.
Second, it's more expensive than some other forms of protein powder due to its higher quality and lack of availability. Thirdly, because egg whites are high in sulfur-containing amino acids (cysteine and methionine), they can have a bitter taste that some people don't enjoy. However, many companies nowadays do a great job with their flavoring blends.
Egg Protein vs. Whey Protein
Egg protein and whey protein are the two main types of proteins used in muscle-building supplements. Both contain high biological values, meaning they're easily absorbed by the body and provide a quick boost of energy.
Egg white protein is generally considered more complete than whey due to its higher amounts of essential amino acids, especially for leucine and isoleucine, which helps build lean muscle mass. It also contains fewer calories per serving, making it a popular choice for those looking to lose weight and gain muscle or strength.
Whey protein has a slightly faster absorption rate and is usually much cheaper than egg white protein. It's also lactose-free, which makes it a great choice for those with dairy allergies or sensitivities.
Zoppler is reader supported and may earn affiliate commissions from links on this page. We support and believe in all the products and services we promote and are affiliated with.