The ideal ketchup is the one that is healthy and safe for consumption. An organic ketchup is your best bet for a healthy option. The term 'organic' is a commitment to healthier and sustainable agricultural practices that can be replicated across different foods and beverages.
We will get to all the details further down, but to save you some time if you want to just know what the best option is, it's Primal Kitchen's Organic Unsweetened Squeeze Ketchup.
Organic Tomato Ketchup – What Exactly Does That Mean?
Have you ever thought about the meaning of organic tomato ketchup? You are not alone. Organic tomato ketchup refers to any ketchup made from naturally grown tomatoes and other natural ingredients.
In other words, the tomatoes used for the ketchup were not grown using synthetic pesticides or herbicides. Instead, the manufacturers focused on natural pest control and soil health.
For a better understanding of organic tomato ketchup, here is more information about its nature:
Non-GMO: Genetically altered tomatoes are not used in this type of ketchup. Therefore, you do not have to worry about any weird science experiments going into your food.
Sustainable farming: Tomatoes used for organic ketchup are grown to promote biodiversity and conserve water while maintaining soil health. This is to reduce their environmental impact.
No synthetic additives: The manufacturer opted out of using synthetic additives, artificial colors, and flavors that other brands use. Instead, they go for natural ingredients.
Certifications: Getting certified by a relevant authority like USDA is no easy task, but it ensures that the product meets specific standards.
What Are Some Typical Ingredients Found in Non-Organic Tomato Ketchup?
Most brands add all sorts of ingredients to their ketchup. This includes tomatoes that were grown and sprayed with synthetic pesticides.
One artificial ingredient is the sweeteners; a common one is corn syrup, which is high in fructose and used as an alternative to natural sugar. To give it some tanginess, distilled white vinegar is used.
Also, to enhance flavor and preserve it, additives such as artificial preservatives, colors, and stabilizers are included in the mix. Salt is another essential seasoning manufacturers of non-organic ketchup add into the mix. Moreover, non-organic ketchup may include onion and garlic powder for additional flavor and taste.
Essentially, the ingredients used vary across different brands. But what differentiates them from organic ketchup is how conventionally grown produce and synthetic additives are used instead of natural pesticide-free components.
The Typical Organic Tomato Ketchup Ingredients Should Be These:
The typical organic ketchup ingredients include the following:
Organic Tomato Concentrate – Organic tomato ketchup contains tomato concentrate made from heated red ripe organic tomato juice, from which a certain amount of water is removed.
Organic Distilled Vinegar – Organic distilled vinegar is often added to ketchup for its strong acidity, which helps give it that signature tanginess. It also serves as a preservative.
Organic Sugar – Organic sugar is any type of sugar made from sugarcane or sugar beet that has been farmed organically. Manufacturers usually add organic sugar to not only add sweetness, but to also maintain its natural state.
Salt – Salt is a common seasoning added to improve the taste.
Organic Onion Powder – Onion powder made from organically grown onions is also one of the ingredients. It makes the ketchup flavorful.
Organic Spice – Organic spices are typically used to enhance the flavor of foods and improve taste. They are not left out of the organic ketchup mix.
Natural Flavoring – Other natural flavors derived from organically grown plants like ginger, garlic, and lemon are added to enhance its taste.
This is Hands Down the Best Organic Ketchup on The Market
Primal Ketchup is undoubtedly the pinnacle of organic unsweetened ketchup offerings, setting an impressive standard for taste and quality. Made from a blend of red ripe organic tomatoes, Primal Ketchup is free of high fructose corn syrup or refined sugars, ensuring a healthy alternative to traditional ketchup.
Yes, we are partnered with Primal Kitchen, and yes, it is because we think they offer some of the best tasting, healthy, and safe to consume food products available. If you use our special code at checkout, "ZOPPLER", you get 10% off. Click here to check out what they have.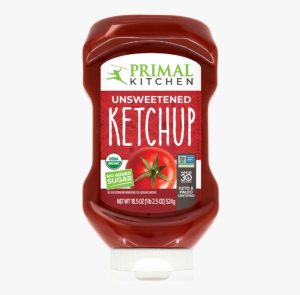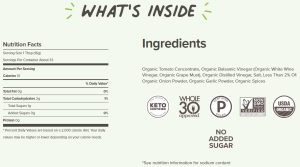 Its natural additives are derived from organic spices like onions and garlic, giving it a unique, rich flavor that adds depth to any dish. To ensure the safety of this organic no sugar added ketchup, it is non-GMO and USDA, Keto, and Paleo-certified.
Primal Kitchen's Ketchup is Also Whole 30 Certified
The best organic ketchup is typically tested and trusted by recognized bodies. Primal Kitchen's Ketchup is Whole 30 certified, a program that helps individuals consume diets that are free from problematic foods for 30 days.
Whole30 certification is a rigorous and highly respected standard in the realm of clean eating and dietary wellness. When a food product is Whole30 certified, it signifies that it has met the strict criteria set forth by the Whole30 program, which was created to help individuals embark on a transformative 30-day dietary reset. To achieve this certification, a food product must be free from additives, preservatives, artificial ingredients, sugar, grains, dairy, legumes, and other potentially inflammatory components.
It should also promote the principles of whole, unprocessed, and nutrient-dense ingredients. Whole30 certification is not only about what is excluded from a product but also about what is included – it must contain high-quality, wholesome ingredients that align with the program's guidelines. This certification offers assurance to health-conscious consumers that the product is in line with the Whole30 philosophy, making it an ideal choice for those seeking to support a clean and balanced diet while avoiding potential allergens and inflammatory substances.
You Could Always Try Making Your Own Homemade Organic Ketchup
Did you know you can produce your own just how you like it? Here is how you can make your own organic ketchup no sugar added, as recommended by Whole Lifestyle Nutrition.
Ingredients:
4 1/2 pounds organic ripe tomatoes
1/4 cup of chopped onion
1/2 cup white vinegar
1/2 of a cinnamon stick
6 whole cloves
1/2 tsp celery seeds
Dash of red pepper
1 tsp unrefined sea salt
Instructions:
Add the vinegar, cloves, cinnamon stick, and celery seeds into the saucepan. Boil, and then remove from heat and set aside.
Cut the tomatoes, put in a pot, add onions, and cook on medium heat for 25 minutes.
Put tomato and onion mixture through a food mill or sieve and discard seeds and skins.
Return the pulp to the pot and cook it down.
Stir occasionally for about an hour.
After it has reduced in size, remove the cloves and add your strained vinegar and salt; continue cooking till you get your desired consistency. Remember that as it cools, the sauce will get thicker.
Organic Unsweetened Ketchup is a Great Ingredient to Cook With, Especially for Family Meals
Unsweetened organic ketchup is fantastic for many dishes, particularly the ones families cook. This product has several benefits, making it an appealing choice for families who watch their diet and want to make tasty meals.
This type of ketchup stands out for its health benefits. It does not have artificial sweeteners or high fructose corn syrup often found in store-bought ketchup. That means you can enjoy the flavorful taste of juicy tomatoes without too much sugar.
It is no secret that nutrition matters for overall well-being, and organic ketchup no sugar style is an excellent choice if you are trying to eat nutritious meals and keep a healthy lifestyle.
With its bold, tangy taste, Primal Ketchup is an ideal condiment recommended for family meals, BBQs, and other recipes.
Tomato Ketchup Organic Style is a Gamechanger
Refined non-organic ketchup manufactured with artificial additives is not an advisable option since they can be grown using harmful chemicals. However, tomato ketchup organic style offers a unique and healthier option since they do not contain those chemicals. It can be a game changer to your diet.
These are Some Dishes You Can Make with Organic Tomato Ketchup
It works perfectly with all the following dishes:
Classic hamburgers and cheeseburgers
Grilled cheese sandwiches
Homemade BBQ sauce for ribs, chicken, or pulled pork
Sweet and tangy meatloaf glaze
Oven-baked chicken tenders with a ketchup dip
Tomato-based pasta sauces with a hint of sweetness
Sample Recipe: Sweet and Tangy Meatloaf
Ingredients for Meatloaf:
1 1/2 pounds ground beef (or a mixture of beef and pork)
1/2 cup breadcrumbs
1/2 cup milk
1/2 cup finely chopped onion
1/2 cup finely chopped green bell pepper
1/2 cup finely chopped celery
2 cloves garlic, minced
1 egg
1 teaspoon salt
1/2 teaspoon black pepper
1/2 teaspoon dried thyme
1/2 teaspoon dried oregano
Ingredients for the Sweet and Tangy Glaze:
1/2 cup organic tomato ketchup
1/4 cup brown sugar
2 tablespoons apple cider vinegar
1 tablespoon Worcestershire sauce
1 teaspoon mustard
Instructions:
1.Preheat your oven to 350°F (175°C).
In a large mixing bowl, combine the ground beef, breadcrumbs, milk, chopped onion, green bell pepper, celery, minced garlic, egg, salt, black pepper, thyme, and oregano. Mix these ingredients together until well combined.
Shape the meat mixture into a loaf and place it in a greased loaf pan or on a baking sheet lined with parchment paper.
In a separate small bowl, mix together the ketchup, brown sugar, apple cider vinegar, worcestershire sauce, and mustard. This will be your sweet and tangy glaze.
Pour about half of the glaze over the meatloaf, spreading it evenly with a spoon or brush.
Bake the meatloaf in the preheated oven for about 45 minutes.
After 45 minutes, remove the meatloaf from the oven and spread the remaining glaze over the top.
Put the meatloaf back in the oven and continue baking for an additional 15-20 minutes or until the internal temperature of the meatloaf reaches 160°F (71°C).
Once the meatloaf is cooked through and the glaze is caramelized, remove it from the oven.
Let the meatloaf rest for a few minutes before slicing and serving.
This sweet and tangy meatloaf pairs well with mashed potatoes, green beans, or a side salad.
Eat Healthy. Eat Organic.
Incorporating healthy organic foods into your diet, such as organic tomato ketchup, is a delicious and wholesome choice that can have a positive impact on your overall well-being. When you choose organic, you not only reduce your exposure to potentially harmful pesticides and synthetic additives, but you also support sustainable farming practices that prioritize soil health and biodiversity. The result is a product that not only tastes great but is also better for you and the planet. So, the next time you reach for that bottle of organic tomato ketchup, savor the rich, robust flavors and take comfort in the knowledge that you're making a responsible choice for your health and our environment. Eating healthy organic foods is a small yet impactful step toward a more sustainable and nourishing future.
Zoppler is reader supported and may earn affiliate commissions from links on this page. We support and believe in all the products and services we promote and are affiliated with.