In recent years, the popularity of Muay Thai kickboxing has exploded across the world. Known for its powerful strikes, impressive clinch work, and grueling conditioning, Muay Thai is a martial art that demands discipline, dedication, and hard work. But what if you can't make it to a traditional gym or simply prefer to train in the comfort of your home? There's good news for you, it's entirely possible to get a great work out and make significant progress with Muay Thai kickboxing training at home. In this article, we'll guide you through a comprehensive training program that covers the essentials for beginners and advanced practitioners alike.
Why Muay Thai Kickboxing Training?
Muay Thai training offers a multitude of physical and mental benefits that make it an excellent choice for individuals seeking an alternative approach to fitness and self-improvement. This ancient martial art, also known as the "Art of Eight Limbs," combines striking techniques using fists, elbows, knees, and shins with rigorous physical conditioning. The beauty of Muay Thai is that it engages multiple muscle groups, providing a full-body workout that improves strength, endurance, and flexibility. It enhances cardiovascular fitness through high-intensity training.
Furthermore, Muay Thai and Kickboxing provide an outlet for stress and tension, releasing endorphins and enhancing mental well-being, as well as, instilling discipline, focus, and mental resilience. It encourages goal setting and perseverance. Martial arts training, and Muay Thai Kickboxing especially, are the perfect way to train your body and mind all at once.
Muay Thai Training Space and Equipment
Before we delve into the training routines, it's essential to establish a dedicated space for your Muay Thai kickboxing training at home. Here's what you'll need:
Training Area: Clear out a space in your home with enough room to move freely. An empty garage, basement, or living room can work well. Ensure there are no obstacles that could pose a safety hazard.
Safety Gear: Safety should always come first. You'll need hand wraps, a mouthguard, and training gloves. If you have a heavy bag, consider investing in good quality shin guards as well.
Heavy Bag: If you have the space and budget, investing in a heavy bag is highly recommended. It's a fantastic tool for developing striking techniques and building endurance.
Jump Rope: A jump rope is essential for improving footwork, agility, and cardiovascular conditioning. Make sure to get one of good quality.
Mirrors: Install mirrors in your training area if possible. They are invaluable for observing and correcting your form.
Timer: You can use a simple kitchen timer or smartphone app to keep track of rounds and rest periods during your training.
Training Partners: If you have someone in your household interested in Muay Thai, training with a partner can be an excellent way to simulate sparring and improve your skills. However, training solo is just as effective.
Featured Products We Love:
RDX Shin Guards Kickboxing Muay Thai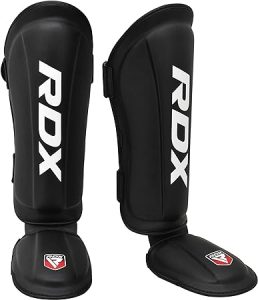 The RDX Shin Guards for Kickboxing and Muay Thai have proven to be an essential piece of protective gear for my martial arts training. These guards offer outstanding protection for the shins and instep without sacrificing comfort or mobility. The high-density foam padding effectively absorbs the impact of strikes, providing security during sparring and heavy bag work. The durable synthetic leather exterior and secure hook-and-loop closures ensure they can withstand the rigors of training. What truly sets these guards apart is their ergonomic design, which allows for a secure fit and exceptional freedom of movement. RDX has produced an excellent product that any serious martial artist can rely on for top-notch protection.
Elite SRS Muay Thai 2.0 Weighted Jump Rope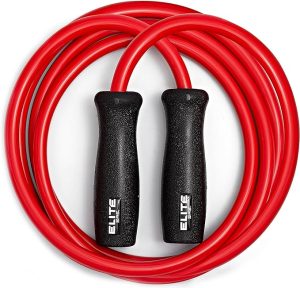 The Elite SRS Muay Thai 2.0 Weighted Jump Rope has taken my cardio and agility training to the next level. This rope is incredibly well-designed, with high-quality materials and smooth ball bearings for a frictionless spin. The addition of weighted handles adds an extra challenge, helping to build upper body strength and increase endurance. The adjustability feature allows you to customize the rope's length to your preference. It's perfect for both beginners and experienced jump ropers. Whether you're looking to improve your footwork for Muay Thai or simply enhance your fitness routine, this jump rope is a fantastic choice for an efficient and challenging workout.
What Makes a Good Punching Heavy Bag
A good punching heavy bag is an essential piece of equipment for Muay Thai, kickboxers, martial artists, and anyone looking to improve their striking skills. Choosing the right heavy bag is crucial for an effective training experience. Here are the key factors that make a heavy bag good:
Weight: The weight of the heavy bag is a critical factor. Heavier bags are generally better for strength and power training, while lighter bags are more suitable for speed and endurance. For beginners, a bag between 70-100 pounds is a good choice. More advanced practitioners may opt for heavier bags, typically in the range of 100-150 pounds.
Size and Shape: The size and shape of the bag can vary. Common options include the traditional cylindrical heavy bag, teardrop bags, and uppercut bags. The choice depends on your training goals. Cylindrical bags are versatile and can be used for various strikes, while teardrop bags are excellent for practicing hooks and uppercuts. Uppercut bags are ideal for targeting body shots.
Filling Material: Heavy bags are filled with various materials, including sand, water, foam, and fabric. A quality heavy bag should have a balanced filling that provides consistent resistance and minimizes settling. The filling material should be evenly distributed, preventing the bag from becoming lumpy over time.
Durability: Look for a punching heavy bag made from high-quality materials that can withstand the wear and tear of regular training. Reinforced stitching, durable synthetic leather, and strong chains or straps for hanging are important features to consider. A bag with a durable outer shell will last longer and provide a better training experience.
Shock Absorption: A good heavy bag should offer some level of shock absorption to reduce the impact on your joints and hands. Some bags have additional padding or an inner layer of foam to help absorb the impact of your strikes. This is especially important for those with hand and wrist injuries or concerns.
Hanging System: Ensure the heavy bag comes with a reliable hanging system, such as chains or straps. The hanging mechanism should be sturdy and capable of supporting the weight of the bag. It's essential to have a secure attachment point, like a ceiling mount or heavy bag stand.
Best Heavy Punching Bags to Check Out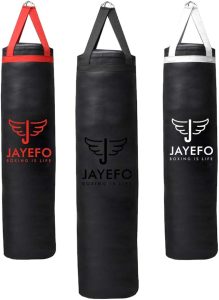 The Jayefo Sports Punching Bag is a true game-changer for my home gym. This heavy bag is a beast! It's incredibly durable, built to withstand powerful strikes, and offers a realistic feel with minimal swing. The high-quality stitching and strong zippers ensure long-lasting performance. It's great for both striking practice and intense cardio workouts. The bag's versatility and resistance to wear and tear make it an excellent investment. Plus, the included hanging chains make installation a breeze. Whether you're a seasoned fighter or a fitness enthusiast looking to spice up your routine, the Jayefo Sports Punching Bag is an exceptional addition to any home gym.

The UFC Standard Punching Bag is a reliable addition to my home gym. Its sturdy construction, reinforced with quality stitching, ensures durability even during intense training sessions. The bag provides a realistic feel for striking practice and a great cardio workout. I appreciate the balanced weight distribution, which minimizes excessive swinging, allowing for more controlled training. The inclusion of heavy-duty chains for easy hanging makes setup a breeze. UFC's reputation for producing quality equipment shines through in this punching bag. It's an excellent choice for both beginners and experienced fighters looking to enhance their training regimen. Overall, it's a solid investment for my home gym
What are the Best Boxing Gloves?
Choosing the best Muay Thai kickboxing gloves is essential to ensure your safety and comfort during training and sparring. There are so many options for gloves, but look for ones that offer protection for your hands and wrists while allowing for effective striking techniques. Here are some of the best kickboxing gloves available, known for their quality and performance.
Hayabusa Boxing Gloves: Hayabusa is a brand that prides itself on innovation and quality. Their T3 gloves feature multi-layered foam padding for optimal hand and wrist protection. These gloves are highly regarded for their fit and performance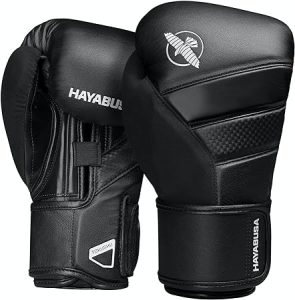 Venum Boxing Gloves: Venum is a brand known for producing high-quality combat sports gear. The Venum Elite gloves are designed for comfort and durability. They offer excellent wrist support and padding for both training and sparring.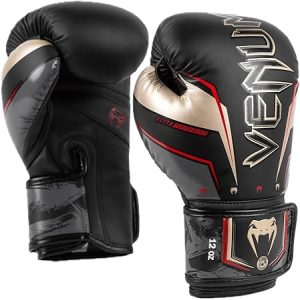 Cleto Reyes Boxing Gloves: A renowned brand in the world of boxing, Cleto Reyes boxing gloves are highly regarded for their exceptional quality and performance. These gloves are known for their craftsmanship, durability, and their popularity among professional boxers and enthusiasts.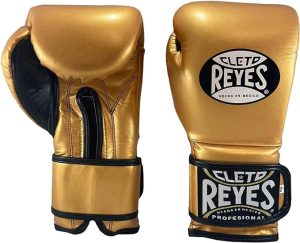 Muay Thai Training Routine
Now that we've established the equipment and space you'll need, here's a sample training routine for your Muay Thai kickboxing session at home. You can adjust the duration and intensity based on your fitness level and goals.
Warm-up: 10-15 minutes (Jump Rope work is the best way to warm up, it gets all of your muscles warm and ready)
Technique and Drills: Spend 30-45 minutes on technique work, focusing on various aspects such as stance, strikes, and defense.
Sparring (Optional): If you have a training partner, you can simulate sparring sessions. Start with light sparring and gradually increase the intensity as your skills improve.
Punching Heavy Bag Work: If you have a heavy bag, dedicate 15-20 minutes to striking drills. Mix up your punches, kicks, and knees.
Conditioning: Add a conditioning circuit to your routine. Perform bodyweight exercises like burpees, push-ups, squats, and planks for 15-20 minutes to improve your overall fitness.
Cool Down: Spend 10-15 minutes stretching and breathing to cool down and improve flexibility.
Muay Thai Progression and Tracking
To track your progress in Muay Thai kickboxing training at home, keep a training journal. Note your training sessions, what you worked on, any improvements or challenges you encountered, and your goals. Additionally, if you have access to a camera, record your sparring sessions to analyze your performance and identify areas for improvement.
As you advance, set specific goals for your Muay Thai skills, such as perfecting a particular combination, increasing your striking power, or improving your clinch work. Regularly reassess your goals and adjust your training accordingly.
9 Round Kickboxing at Home Today
Muay Thai kickboxing training at home is a superb way to stay active, improve fitness, and learn self-defense, all from the comfort of your own space. With a few purchases, you'll transform not only your home gym, but yourself into a lean mean Muay Thai fighting machine. On top of gaining fighting skills, however, you'll also build functional strength in your arms, legs, and core, improve your cardio and find a new avenue for stress relief. Don't wait to get started, as Bruce Buffer from the UFC would say, "It's Time!" Wrap those hands, put on your boxing gear, strap-up those kickboxing shin guards, and start punching that heavy bag today.
Zoppler is reader supported and may earn affiliate commissions from links on this page. We support and believe in all the products and services we promote and are affiliated with.