When it comes to swimming, having the right gear is crucial for a smooth and enjoyable experience. One of the most important items to swimmers everywhere are reliable swim bags. A good swim bag not only helps you carry your essentials but also keeps them organized and protected. In this article, we'll provide a list of the ten best swim bags that are perfect for fitness and fun, and then we'll explore the importance of having a good swim bag and the qualities you should look for in one.
Top 10 Swim Bags You Need to Check Out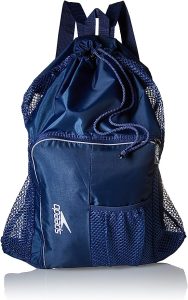 Speedo is one of the biggest and most trusted names in the swim gear world, and their Ventilator Mesh Bag is a fine example of why they always have been, and always will be one of the best. This bag is made from 100% polyester for durability and is light weight. The open weave mesh system helps with quick drying, and it even has shoulder straps so you can carry it like a backpack. Are you somebody who likes your gear and bags to match your personality? Well, there are 17 different colors and patterns to choose from, all the way from normal black, blue, and red, to deep coral, sodalite blue tie dye, and abstract tiger. Roar!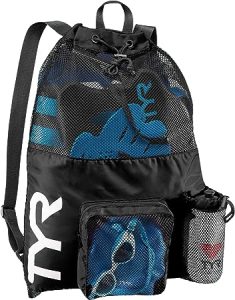 TYR is another brand that is well-known, and for good reasons, in the world of swimming gear. This Big Mesh Mummy backpack is on the larger side, so it's great if you're somebody who likes to bring a lot of stuff with you to the pool or beach, especially big bulky towels. It has a big spacious main compartment and a small zip compartment for personal items like keys and cell phones. This backpack is also mesh for faster drying time, and on the sides, there is another zipper pocket just in case you need more secure storage. It has a built-in mesh water bottle pocket which is a cool feature. With 13 different colors and patterns available, we are confident you can find one that matches your image.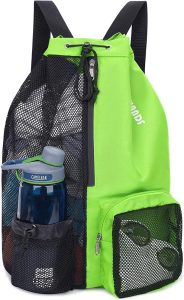 WANDF is a lesser-known brand than Speedo and TYR in the swim community, but they have been around since 2014 and specialize in bags. Their drawstring backpack for swimming has a dry wet separation pocket, made of premium PVC material, you can use to put wet bathing suits. It also has a waterproof zipper pouch you can use to store items you don't want to get wet, like cell phones and wallets. The main compartment is quite large, and it also has two front mesh pockets for easy access items like goggles and water bottles. Weighing only about 1/2 pound, this bag is super light and easy to travel with. If you need to, you can actually put this bag in the washing machine for easy cleaning. Worried about holding it? Fear not, it also has straps that allow you to wear it like a backpack with your hands free. The 14 color and pattern options they provide are very vibrant, and with the 50% black mesh look, it really makes the design pop.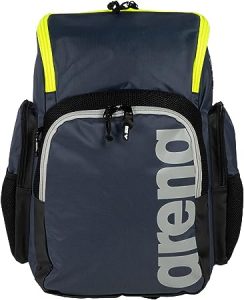 Since this swim bag is not predominantly mesh and is more like a traditional backpack, it is a bit more expensive due to the cost of material, but it's still very affordable. Arena is a great aquatic sport company founded in 1973, and they focus on high quality Italian design. It still has mesh pockets so you can easily access the items you want, and the reinforced bottom makes it so that you don't have to worry about the contents getting dampened when you place it on wet floors. The back is padded so that it's comfortable to wear even if it's heavy. BONUS – there is even a free swim bag that comes included in the backpack so you can carry your wet garments with you. The main compartment is enclosed by a zipper, and it also has a big front zipper pocket too, making it very easy to access and/or secure your belongings. There are only 6 color and pattern options for the design, but they are very unique and fashionable.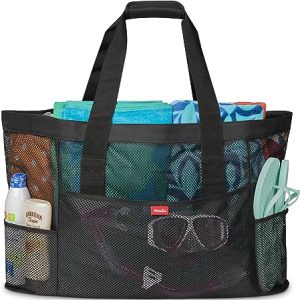 This mesh tote bag by OdyseaCo is a different, and very worthy, option we want to present to you. If you are not into the hand carry or backpack styles, this tote bag could be the perfect option for you. The design of a tote bag allows you to carry more stuff, and the big opening at the top makes it so that you rarely must go diffing and searching for whatever it is you're looking for. Beyond the huge main compartment, there are 8 large pockets to use and 1 waterproof zip pocket inside for wet stuff. it even has a clip for your keys so you can easily find them. We think this bag is more of a beach bag, but if you are lugging around multiple towels and a bunch of kid stuff, then this could be the perfect pool day tote for you as well.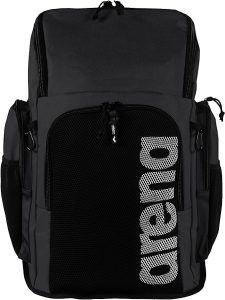 This is another good option from the Arena Spiky III Team line, which are very high-quality bags inspired by their sponsored swim athletes. This bag was designed for swimming and potential gym use, but really you can use it for whatever you see fit. It's large, with a capacity of 45 liters. It has a wide-mouth zipper opening on the top for easy loading and unloading, and it has a logo stamped mesh pocket on the side for a water bottle or other items you want easy access to. The logo stamp is a cool design feature, and it makes this bag stand out a bit from the rest. The bottom is a waterproof reinforced material that gives you protection from wet surfaces. The YKK (specialized zipper company) zippers make this bag super luxurious and functionable, and with nylon pulls on the main zipper and two carabiners available, accessing the contents and securing your keys, goggles, etc. will be super easy. There are 11 fun design options to choose from, and we suggest looking at the Team Navy Melange, which just looks so sleek and cool.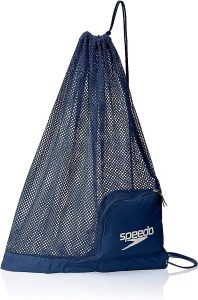 This is a simplified version of the Ventilator Bag we highlight in option #1. If you are looking for a super simple swim bag that you can just throw your bathing suit, towel, goggles, etc. in and not have to worry about lugging them around, then this is it. There is one main compartment that has a drawstring on top to close and open, and it also has a small zipper pocket on the front with the Speedo logo for your phone, wallet, keys, and whatever else you want secured there. With a 100% polyester build, this bag is very lightweight and durable. It has 1 shoulder strap that has a 12″ drop. It comes in 7 different solid color options and is the perfect bag if you just want something easy, cheap, and basic.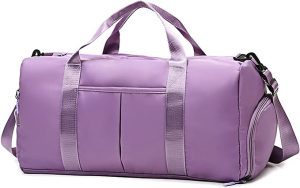 This is the first swimming duffle bag we are throwing out there for you, and we think this option by ZGWJ is definitely worth your consideration. There is not really anything great to say about ZGWJ, because they just seem to be more of a manufacturer of good quality products than a big brand name. However, with over 1,300 reviews on Amazon that average 4.4 stars, it's clear they make a duffel bag for swimming that people love. The color options they have are pretty cool since they all seem to be on the pastel spectrum (7 color options total). It's made of a lightweight waterproof and tear resistant nylon fabric, and it's also anti-wrinkle and easy to clean. Other than the main zipper compartment storage area, it has 1 big zipper pocket on each side of the bag, and even has a strap slot that can slide it over the handle of your suitcase, making it an ideal duffel bag for long trips. One of the zipper pockets on the side is especially designed to house shoes, making it easy to have your favorite kicks ready for when you get out of the pool. Great storage, quality materials, and a simple modern design makes this a good one to investigate more.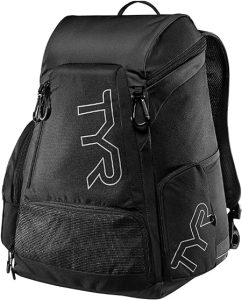 We'd like to provide you with another great option from TYR since they are truly one of the best swim gear companies on the market. Their Alliance Swim Backpack is one of their best models. Not only is it super affordable, but it looks very professional and has all the functionality you will ever need. The design of it is awesome, and the curved contour shape and well-placed padding makes it one of the most comfortable backpacks you can buy. It has multiple front and side pockets, giving you plenty of choices when it comes to where to store your accessories. The mesh pockets are expandable and perfect for bathing suits, wet suits, water bottles, and more. It even has protectable storage for electronics. in case you need to have your laptop with you or just need extra shielding for your phone. It comes in two sizes – 30 liter and 45 liter – and 30 design and color options, that's right…30!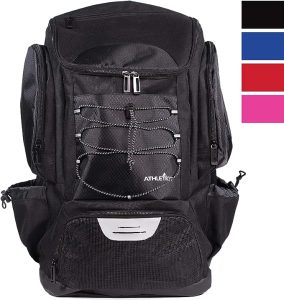 Athletico is a solid US based company that focuses on sports and athletic gear, making highly functional and durable products. Their swim backpack is close to perfection. The bottom is made of tarpaulin – extremely lightweight, durable, and waterproof material. Other than the main zipper compartment up top, it has 2 big zipper pockets on the sides up high, 1 drawstring pocket on the lower sides, a zipper mesh pocket on the front, and external bungie storage that you can use in so many ways. One of the coolest features about this bag is the removable internal storage pouch, which essentially can be used as a smaller and more convenient bag in case you don't want to bring the whole backpack with you. Another good bonus feature of the Athletico bag is the laptop compartment. It has an elevated and padded laptop sleeve that will keep your computer safe. This is a bigger, more serious swim backpack that you can use for vacations, hikes, work, and other activities outside of just swimming.
The Importance of Having a Good Swim Bag
Imagine arriving at the pool excited for your swim session, only to find your swim gear scattered haphazardly over your regular gym bag. Having the right gear at your fingertips is paramount to ensure a seamless and enjoyable experience. Among the essentials, a quality swim bag stands as an unassuming yet indispensable companion, facilitating the journey from preparation to the poolside. More than just a vessel for your swimwear and accessories, a well-crafted swim bag embodies a multitude of benefits that significantly enhance your aquatic endeavors. From its organizational prowess and durability to its ability to simplify the complexities of carrying wet gear, a quality swim bag effortlessly amalgamates functionality and convenience. We'll delve into the myriad of advantages in possessing a top-notch swim bag, highlighting how it transcends being a mere accessory to become an essential tool for water enthusiasts of all kinds.
What are the Qualities of the Perfect Swim Bag?
When searching for the perfect swim bag, there are a few key qualities you should consider. Let's take a closer look at each of these features.
Compartmentalization
The best swim bags offer multiple compartments and pockets, allowing you to organize your gear efficiently. Look for bags with separate sections for wet and dry items to keep your clean clothes and electronics safe from any residual moisture.
Capacity
Swimmers often carry a lot of gear, from towels and clothes to goggles and water bottles. A good swim bag should have ample space to accommodate all your essentials without being too bulky or heavy.
The ideal size of a swim bag can vary depending on your personal needs and the items you typically carry with you to the pool. However, a medium-sized swim bag with dimensions around 20-25 inches in length, 10-15 inches in width, and 8-12 inches in height is generally considered a good starting point.
This size provides enough space to hold essentials such as swimwear, a towel, goggles, a swim cap, sunscreen, and possibly a change of clothes. It's important to strike a balance between having enough room for your belongings while still maintaining a manageable and comfortable bag to carry.
If you tend to carry additional items like shoes, a water bottle, or extra gear, you might want to consider a slightly larger bag. On the other hand, if you prefer to travel light, a smaller bag could suffice.
Remember that the bag's compartments and organization features also play a role in how effectively you can pack your belongings. It's a good idea to choose a bag with multiple pockets and compartments to help keep things organized and prevent items from getting mixed up or wet.
Material
Since swim bags are frequently exposed to water and damp environment. A good swim bag is typically made from materials that are durable, water-resistant, and easy to clean. Here are some common materials used for swim bags:
Nylon: Nylon is a popular choice for swim bags due to its durability, water resistance, and lightweight nature. It's also relatively easy to clean and maintain.
Polyester: Polyester is another common material used for swim bags. It's known for its strength, resistance to water, and ability to retain color well over time.
Mesh: Many swim bags feature mesh panels or compartments. Mesh allows for ventilation and quick drying, which is especially useful for wet swim gear and towels.
Tarpaulin: Tarpaulin is a heavy-duty waterproof material often used in more specialized swim bags. It's highly resistant to water and offers excellent protection against moisture.
Vinyl: Vinyl-coated materials are also water-resistant and provide a bit more structure to the bag. They are relatively easy to wipe clean and can handle exposure to damp environments.
Neoprene: Neoprene is a material known for its water resistance and insulating properties. While not as common for the entire bag, it might be used for specialized compartments or accessories within the bag.
When choosing a swim bag, consider the balance between durability, water resistance, and your personal preferences. Bags made from a combination of these materials might offer the best of both worlds, providing strength and protection while also ensuring your gear remains dry and well-ventilated.
Wet vs Dry Clothing
A swim bag also comes in handy when you have wet swimsuits or towels to carry after your session. With a proper swim bag, you can separate the wet items from your dry ones, preventing any potential mess. Additionally, some bags are designed with waterproof compartments to keep your valuables safe and dry while you enjoy your time in the water.
Design
A swim bag's design should be both functional and stylish. Adjustable straps and comfortable handles make carrying the bag to and from the pool easy. Moreover, a sleek design can add a touch of personal flair to your swim gear.
Things You Should Put in Your Swim Bag
Before we dive into the list of the best swim bags, let's quickly go over the essential items you should pack in your swim bag.
Bathing Suit: The most crucial item for any swimmer. Pack an extra one, just in case!
Footwear: A pair of flip-flops or sandals for the poolside and comfortable shoes for walking to and from the pool.
Sunglasses: Protect your eyes from the sun, especially when swimming outdoors.
Clothes: Pack a T-shirt, sweatshirt, extra clothes, and socks for after your swim.
Sunblock: Don't forget to protect your skin from harmful UV rays.
Goggles: A must-have for clear vision while swimming.
Personal Hygiene Products: Bring shampoo, soap, and any other items you might need for a post-swim shower.
Earplugs & Nose Clips: Optional but helpful if you're sensitive to water getting in your ears and nose.
Snacks: Swimming can be strenuous, so pack some healthy snacks to refuel.
Water: Stay hydrated before, during, and after your swim.
Towels: Carry at least one large towel for drying off.
Waterproof Bags or Cases: Keep your phone, keys, and other valuables dry and safe.
Swim Cap: Some pools require swim caps for hygiene reasons, so it's always good to have one handy.
A well-designed bag becomes your trusted companion, making your pool visits more enjoyable and giving you with more time to focus on the fun and fitness of swimming
Zoppler is reader supported and may earn affiliate commissions from links on this page. We support and believe in all the products and services we promote and are affiliated with.