In the world of fitness, there's a multitude of exercises and training methods designed to challenge your body and help you achieve your fitness goals. Water weight lifting, also known as aquatic resistance training, is a unique and effective approach that can make a splash in your fitness routine. Personal trainers often witness firsthand the incredible benefits that water weightlifting offers, and in this article, we'll guide you through the world of aquatic workouts, share our insights, and provide a comprehensive perspective on the subject along with our recommendation for the top 5 best weights water will ever submerse.
The Way of Water
Water weightlifting is a form of resistance training performed in a pool or other aquatic environments. It combines the principles of traditional weightlifting with the unique properties of water to create a highly effective and low-impact workout. Aquatic workouts are perfect for all fitness levels due to their adaptability and safety.
Top 5 Best Weights Water Loves
When it comes to water aerobics, selecting the right weights can make all the difference in your workout. Here, we'll dive into the top 5 best water aerobic weights that promise to enhance your aquatic fitness routine, ensuring a challenging and effective exercise session.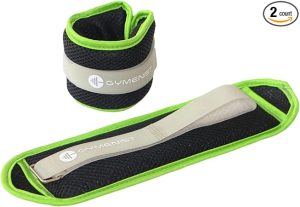 The Gymenist Waterproof Ankle Weights with adjustable straps are a game-changer for aquatic fitness enthusiasts. These ankle weights offer versatility and comfort for water-based workouts. The adjustable strap ensures a secure fit, accommodating various ankle sizes. What sets them apart is their waterproof design, ensuring they stay buoyant and functional in the pool. The added resistance enhances leg workouts, making leg lifts and kicks more effective. They're lightweight, easy to put on, and comfortable to wear, even during high-intensity water aerobics. Whether you're a beginner or a seasoned water fitness enthusiast, these ankle weights are a valuable addition to your aquatic exercise routine.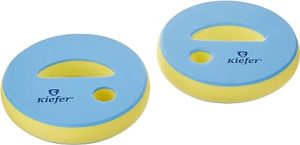 Kiefer Water Exercise Discs are an indispensable tool for aquatic fitness. These buoyant foam discs are designed to provide versatile resistance in the water, making them ideal for toning muscles, improving balance, and enhancing overall fitness. Their durable construction ensures longevity, even with frequent use. The ergonomic design is comfortable to grip and offers stability during workouts. These discs are perfect for water aerobics, core strengthening, and full-body workouts. Whether you're a water exercise novice or a seasoned pro, Kiefer Water Exercise Discs are a reliable and effective addition to your routine, helping you achieve your fitness goals while enjoying the benefits of a low-impact workout.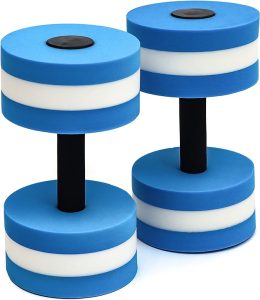 The Lightweight Aquatic Exercise Dumbbells by Trademark Innovations are an essential addition to any water aerobics regimen. This set of two foam dumbbells is perfect for low-impact aquatic workouts. Their buoyant foam construction ensures they stay afloat and provide gentle resistance in the water, making exercises more effective. The foam grips are comfortable and non-slip, ensuring a secure hold during workouts. They are versatile, allowing you to target various muscle groups with ease. Whether you're looking to enhance your cardiovascular fitness, tone your muscles, or improve your overall strength and flexibility, these dumbbells offer the perfect combination of durability, functionality, and comfort for aquatic exercise.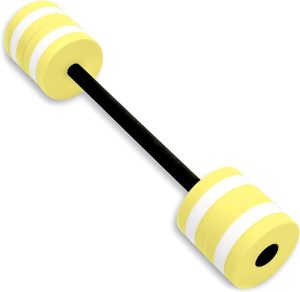 The Trademark Innovations 30″ Aqua Fitness Swim Bar with padded grip is a standout tool for water fitness enthusiasts. This swim bar is expertly designed to provide a full-body workout experience in the pool. The 30-inch length offers stability and resistance in the water, making it ideal for various exercises, from strengthening your core to toning your muscles. The padded grip ensures comfort and a secure hold, even during high-intensity workouts. Whether you're a beginner or a seasoned swimmer, this swim bar is an excellent addition to your aquatic fitness routine. It's durable, effective, and perfect for achieving your fitness goals while enjoying a low-impact water workout.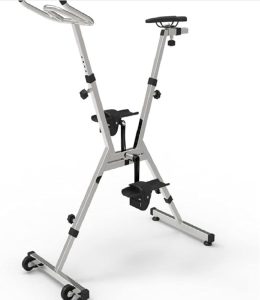 Aquatic Foldable Swimming Pool Exercise Bike offers an innovative and effective way to amp up aquatic fitness. Its durable stainless steel construction ensures longevity and resistance to the pool's water environment. The foldable design makes storage and transportation a breeze. This aquatic fitness bike is perfect for low-impact yet high-intensity workouts. Its underwater operation provides a challenging full-body workout, promoting cardiovascular health and muscle toning. The adjustable resistance settings cater to users of varying fitness levels. With a comfortable saddle and ergonomic handlebars, this aquatic bike ensures a comfortable and productive exercise session. It's a fantastic investment for anyone seeking a unique, efficient, and aquatic fitness solution.
Benefits of Water Weightlifting
There are many benefits to getting your workouts done in the pool; or any body of water for that matter. It's one of the reasons so many aqua fit classes are popping up in communities around the world, and equipment makers are producing weights water can't damage or damage the pool itself.
Low Impact: One of the most significant advantages of water weight lifting is its low-impact nature. Exercising in water reduces the stress on joints and minimizes the risk of injury, making it suitable for individuals of all ages and fitness levels. This is one of the many reasons that pool exercises for seniors are so beneficial.
Resistance Training: Water provides natural resistance, making every movement more challenging. This added resistance helps to build muscle strength and endurance.
Cardiovascular Benefits: Aquatic workouts elevate your heart rate, providing cardiovascular benefits while still being gentle on your joints. The water's resistance creates a unique environment for both strength and aerobic training.
Increased Range of Motion: The buoyancy of water allows you to move through a greater range of motion than on land, enhancing flexibility and joint mobility.
Thermoregulation: The water's cooling effect reduces the risk of overheating, allowing you to exercise comfortably in a variety of conditions.
Rehabilitation and Recovery: Water weightlifting is often used in physical therapy for rehabilitation. It can aid in recovery and help individuals regain strength after injuries.
Weights Water Can't Hurt to Start your Routine
When it comes to pool workouts, you have a few options for selecting the best weights. Water-based workouts are typically designed to provide resistance, help build strength, and improve cardiovascular fitness while minimizing impact on your joints. Here are some options for weights you can use in the pool:
Water Dumbbells: Water dumbbells, or Aqua dumbbells to some, are specially designed for water workouts. They come in various shapes and sizes, with foam or plastic handles and buoyant ends. You can use these for a wide range of exercises, including bicep curls, lateral raises, shoulder presses, front raises, leg lifts, and more.
Water Ankle Weights: You can find waterproof ankle weights that are designed to be worn while performing water aerobics or other pool exercises. These add resistance to leg movements like leg lifts or flutter kicks.
Resistance Bands: Some resistance bands are designed for water use, and they can provide resistance for both upper and lower body exercises. They are lightweight and easy to use in the water.
Pool Noodles: While not traditional weights, pool noodles can be used to add resistance to your workouts. You can hold a pool noodle horizontally in the water and push or pull against it to work your arms and upper body. You can also use them to support or leverage your body while doing lifts with other weight water isn't able to erode.
Water Exercise Discs or Hand Paddles: Swimming hand paddles are a great option for adding resistance to arm movements during pool workouts. They are typically made of durable plastic and can be worn on your hands.
Water Barbells & Water Dumbbells: These are lightweight foam barbells and dumbbells designed for water exercise. They are excellent for upper body workouts, such as bicep curls and lateral raises.
Designing Your Aquatic Workout
Designing an effective aquatic workout involves selecting the right exercises and understanding how water resistance impacts your movements. Here's how to get started:
Set Clear Goals: Like any fitness regimen, start by defining your goals. Are you looking to build strength, improve endurance, or enhance flexibility? Your goals will guide your exercise selection.
Choose the Right Depth: Aquatic workouts can be done in varying water depths. The deeper the water, the greater the resistance. For beginners, waist-deep water is a good place to start, while more advanced individuals may choose chest-deep or deeper for added resistance.
Select Exercises: You can adapt many traditional weightlifting exercises for the pool. For example, squats, lunges, bicep curls, and tricep extensions are all great options. The beauty of technology is that you can now find water dumbbells, water ankle weights and water barbells at most fitness stores or Amazon.  Additionally, water-specific exercises, like water jogging and treading water, can be included. Or, if you want to up your game and purchase a pool exercise bike, you can expand your options even further.
Maintain Proper Form: Form is crucial in water weightlifting, just as it is in traditional weightlifting. Concentrate on maintaining good posture and control during each exercise. The water's resistance makes it easy to lose form if you're not careful.
Choose Appropriate Resistance: Adjust the speed and intensity of your movements to suit your fitness level. The faster you move, the more resistance you'll encounter.
Combine Cardio and Strength Training: Incorporate both cardiovascular and strength-training exercises into your aquatic workout. You can alternate between exercises that raise your heart rate, like water jogging, and those that target specific muscle groups.
Water Weight Lifting Workouts
Here are a few sample aquatic workouts to help you get started. Remember to adapt them based on your fitness level and goals.
Week 1 & 2 Water Workout:
Walking or Jogging  with Water Ankle Weights(3-5 minutes)
Squats (10-15 reps)
Arm Circles with Exercise Discs (30 seconds)
Bicep Curls (10-15 reps)
Leg Lifts (10-15 reps)
Complete 2-3 rounds with 30-60 seconds of rest between exercises.
Week 3 & 4Workout:
Water Jogging with Water Ankle Weights(5-10 minutes)
Lunges with either water dumbbells or a water barbell (10-15 reps per leg)
Cross Country Ski (30 seconds)
Tricep Dips (10-15 reps)
Flutter Kicks (10-15 reps)
Complete 3-4 rounds with 30-45 seconds of rest between exercises.
The "Be like Water" (famous Bruce Lee quote) Workout:
Water Treading with underwater weights on your feet (5-10 minutes)
High Knees  with Water Ankle Weights (30 seconds)
Squat Jumps while holding your water dumbbells (10-15 reps)
Plank (30 seconds)
Push-Ups (10-15 reps)
Complete 4-5 rounds with 30 seconds or less of rest between exercises.
Safety and Tips for Maximizing Your Water Weight Lifting Workouts
Stay Hydrated: Even though you're in the water, it's essential to stay hydrated. Dehydration can still occur in a pool environment.
Mind Your Form: Focus on maintaining proper form and control to prevent injury and get the most out of each exercise. Just because you're in the water and won't feel the stress on the joints like you're used to, form is still crucial.
Listen to Your Body: Pay attention to how your body feels during the workout. If you experience discomfort or pain, stop and rest.
Warm-Up and Cool Down: Begin with a warm-up that includes dynamic stretches and finish with a cool-down that involves static stretching.
Stay Consistent: Like any exercise routine, consistency is key to seeing results. Aim to work out regularly to experience the full benefits of water weight lifting.
Use Appropriate Footwear: Wearing water shoes can provide better traction and help you avoid slipping on the pool bottom.
Go Make Some Waves
Water weight lifting is a refreshing and highly effective approach to fitness. Whether you're a beginner or an experienced fitness enthusiast, the unique properties of water can enhance your workout experience while providing a low-impact, full-body challenge. We encourage you to explore aquatic workouts and make waves in your fitness routine. By setting clear goals, choosing the right exercises, maintaining proper form, and listening to your body, you can enjoy the numerous benefits that water weight lifting offers. Dive in and discover a new level of fitness while staying cool and comfortable in the pool.
Zoppler is reader supported and may earn affiliate commissions from links on this page. We support and believe in all the products and services we promote and are affiliated with.