In recent years, a wellness revolution has taken hold in the comfort of our homes, with the rise of home muscle massage devices like Hypervolt, NormaTec, Theragun, Hypervolt and more. This phenomenon has signified a seismic shift in how individuals approach self-care and recovery, offering accessible and convenient solutions to address muscle tension and fatigue. As urban lifestyles become increasingly fast-paced and demanding, the need for effective muscle relaxation has grown, giving birth to a burgeoning market of sophisticated, technology-driven tools that promise to rejuvenate tired muscles and improve overall well-being.
Why Muscle Massage is Important
Muscle massage stands as a cornerstone in the realm of recovery.  When you engage in intense physical activities, it subjects your muscles to stress and strain, resulting in micro-tears that, when healed, lead to enhanced strength and endurance. However, efficient recovery is crucial to this process. Muscle massage plays a pivotal role in promoting blood circulation, which aids in delivering vital nutrients and oxygenation to muscles, accelerating the repair process.
Beyond physical benefits, muscle massage also targets mental rejuvenation. The rhythmic kneading and soothing touch stimulate the release of endorphins, reducing stress and anxiety. By mitigating post-workout soreness and stiffness, massage encourages consistency in exercise routines, a key factor in long-term fitness success. Moreover, the practice of muscle massage fosters a deeper connection between individuals and their bodies, promoting mindfulness and self-care
Muscle Massage Recovery at Home
Gone are the days when only athletes and professionals had access to intensive massage therapies. With these innovative devices, a broader demographic can now harness the benefits of muscle recovery, once reserved for high-end spas, expensive deep tissue massages and physical therapy centers. The amalgamation of advanced engineering and user-friendly design has ushered in an era where individuals can experience the transformative effects of muscle massage in their own homes, and on their own schedules. This shift not only empowers users to take control of their physical recovery but also underscores the marriage of technology and health, paving the way for a more holistic approach to well-being in the modern age.
Best Products to Use: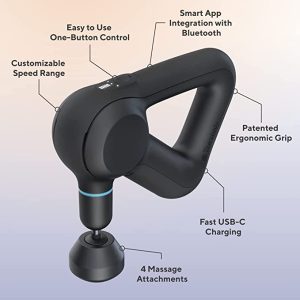 The Theragun is a cutting-edge percussive therapy device designed to provide deep muscle relief and recovery. Powered by advanced technology, the Theragun employs rapid and powerful percussive movements to effectively target and alleviate muscle tension, soreness, and discomfort. Its ergonomic design allows users to effortlessly reach even the most hard-to-reach areas of their body for a comprehensive massage experience.
Featuring multiple speed settings and interchangeable attachments, the Theragun offers customizable treatments tailored to individual needs. Whether you're an athlete aiming to enhance performance, a fitness enthusiast seeking post-workout relief, or simply someone looking to alleviate daily stress, the Theragun can be a versatile companion.
Designed for user convenience, the Theragun boasts a quiet and compact design, making it suitable for home, gym, or on-the-go use. With its intuitive controls and long battery life, it ensures seamless usability and extended treatment sessions. The Theragun is more than just a massage device; it's a high-tech solution for promoting overall wellness, muscle recovery, and relaxation, empowering users to take control of their physical comfort and performance.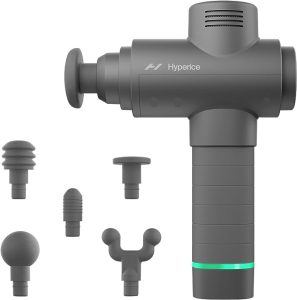 The Hypervolt presents a revolutionary approach to muscle recovery and relaxation through percussive therapy. Engineered with cutting-edge technology, this handheld device delivers rapid and targeted pulses to effectively alleviate muscle tension, soreness, and stiffness. Its sleek and lightweight design, coupled with multiple attachment heads, allows users to tailor their experience according to their specific needs, whether it's post-workout recovery, injury rehabilitation, or daily stress relief.
Boasting multiple speed settings and a quiet motor, the Hypervolt ensures a customizable and discreet recovery session. Its ergonomic grip and intuitive controls make it easy to use, even for those new to percussive therapy. Whether you're an athlete striving for peak performance, a fitness enthusiast aiming for a swift recovery, or an individual seeking relaxation, the Hypervolt provides a versatile solution.
With a long-lasting battery and portable design, the Hypervolt can seamlessly integrate into your routine, whether at home, the gym, or on the road. Elevate your wellness journey with the Hypervolt and experience firsthand the benefits of targeted muscle relief, improved circulation, and enhanced mobility.
Compression Sleeves for Everyday Use
Just like at home muscle massage devices, compression sleeves have seamlessly woven their way into the fabric of everyday life, transcending athletic applications to become indispensable companions for people from various walks of life. These sleeves, once exclusive to the sports world, now find relevance in the routines of office workers, travelers, and those seeking comfort and wellness.
For office dwellers spending prolonged hours at desks, compression sleeves offer relief from the sedentary strain that can lead to discomfort and stiffness. By aiding blood circulation, they mitigate the risk of swelling and promote vitality in limbs, making each workday more manageable.
Travelers, whether jet-setting across continents or enduring long commutes, benefit from the support compression sleeves provide to legs and feet. These sleeves guard against edema and the discomfort of prolonged sitting, fostering a sense of ease during journeys.
In essence, the everyday use of compression sleeves exemplifies the integration of wellness into modern lifestyles. No longer confined to specialized settings, they have become a universal tool that empowers individuals to stay in tune with their bodies, fostering a holistic approach to self-care amidst the whirlwind of contemporary existence.
Best Products to Use:
The NormaTec Leg Compression system offers a state-of-the-art solution for enhancing muscle recovery and circulation. This innovative technology employs dynamic air compression to provide sequential pressure to the legs, reducing muscle soreness, fatigue, and swelling. Ideal for athletes, fitness enthusiasts, and individuals with active lifestyles, the NormaTec system uses advanced algorithms to mimic the body's natural circulatory processes, aiding in the removal of metabolic waste and facilitating faster recovery.
The NormaTec system comes with customizable intensity levels and different leg attachments to ensure a tailored experience. Whether you're seeking post-workout recovery, alleviation of muscle stiffness, or relief from everyday leg discomfort, this technology can be adjusted to meet your specific needs. Its user-friendly interface and compact design make it suitable for home use or on-the-go recovery.
With a reputation for efficacy and endorsed by professionals in various fields, the NormaTec Leg Compression system offers a convenient and efficient way to prioritize your well-being. Experience the benefits of improved blood flow, reduced muscle soreness, and enhanced recovery with this cutting-edge compression technology.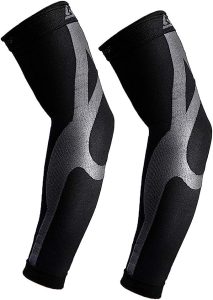 The B-Driven Sports Compression Sleeve is a game-changing accessory designed to elevate athletic performance and recovery. Crafted with precision, this compression sleeve offers targeted support to muscles and joints, promoting better circulation, reducing muscle oscillation, and minimizing the risk of injuries. Whether you're an athlete striving for peak performance or someone engaged in physical activities, the B-Driven Compression Sleeve provides a seamless blend of comfort and function.
Engineered with moisture-wicking materials, the sleeve keeps you cool and dry even during intense workouts. Its ergonomic design ensures a snug fit while allowing a full range of motion, making it an indispensable companion for various sports and activities. From running and cycling to weightlifting and team sports, this compression sleeve adapts to your needs, helping you stay in the game and recover swiftly.
With its durable construction and proven benefits, the B-Driven Sports Compression Sleeve is a reliable choice for enhancing endurance, preventing muscle fatigue, and expediting recovery. Experience the fusion of science and sport by incorporating this advanced compression sleeve into your routine, and unlock your potential with every movement.
Are Muscle Massage and Compression Sleeves Worth the Money?
Investing in at-home muscle massage and compression sleeve products proves to be a wise expenditure, offering a trove of physical and mental benefits that extend beyond their initial cost. These devices provide a consistent and accessible solution for muscle recovery, making them worth every penny. With a one-time purchase, individuals gain the power to address muscle soreness, tension, and fatigue at their convenience, eliminating the need for costly and time-consuming visits to spas or therapists.
Moreover, these devices democratize the advantages of professional-level massage, catering to a wider audience that includes athletes, fitness enthusiasts, professionals, and those with busy schedules. The value lies not only in the financial savings over time but also in the preservation of physical well-being, promoting quicker recovery and preventing potential injuries.
An Investment in Yourself!
Your body is a machine, and like any good machine, it requires some investment and care to ensure everything is running smoothly and optimally.
Providing the flexibility to tailor routines to individual needs, at-home recovery tools ultimately enhancing consistency and long-term benefits: reduced stress, better sleep, and heightened vitality. As an investment in oneself, these tools become an integral part of the daily journey towards wellness, sending a clear message that prioritizing self-care is a pivotal component in nurturing a sustainable foundation for a healthier and more balanced life.
Important Tips for Muscle Massage Tools and Compression Sleeves
When utilizing at-home muscle massage devices, it's essential to begin with proper understanding and technique. Firstly, always read and follow the manufacturer's instructions to ensure safe and effective usage. Start with lower intensity settings and gradually increase as your body becomes accustomed to the treatment, preventing any discomfort or overstimulation.
Incorporate proper technique by allowing the device to glide smoothly over muscles instead of applying excessive pressure. Focus on areas of tension and soreness, but avoid targeting bones, joints, and sensitive areas. Regularly clean and maintain the device to prolong its lifespan and ensure optimal performance.
When it comes to compression sleeves, proper fit is paramount. Select the appropriate size based on the manufacturer's guidelines to ensure effective compression without causing discomfort or circulation issues. Remember that compression sleeves are not one-size-fits-all; each individual's needs may differ.
While wearing compression sleeves, prioritize comfort and gradual usage. If you experience any numbness, tingling, or increased discomfort, remove the sleeve immediately. Additionally, avoid using compression sleeves during sleep.
Both at-home muscle massage devices and compression sleeves contribute significantly to well-being, however, to maximize their benefits they must be used correctly.
Best Muscle Stimulator Massage Machine on the Public Market: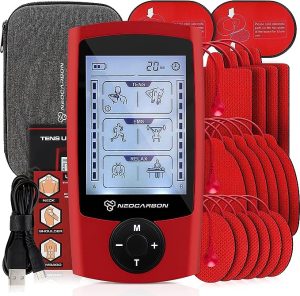 The TENS Unit Muscle Stimulator is an innovative device that harnesses the power of electrical stimulation to provide targeted pain relief and muscle recovery. Using Transcutaneous Electrical Nerve Stimulation (TENS) technology, this compact and portable unit delivers gentle electrical pulses to nerve fibers, effectively blocking pain signals and promoting the release of endorphins. It's an ideal solution for managing chronic pain, post-workout soreness, and various muscle discomforts.
Featuring adjustable intensity levels and a range of pre-set programs, the TENS Unit Muscle Stimulator can be customized to suit individual preferences and needs. Its user-friendly controls and clear display ensure effortless operation, while adhesive electrode pads allow for precise placement on specific areas of the body.
Designed for convenience, the TENS Unit Muscle Stimulator offers a drug-free and non-invasive approach to pain management and muscle recovery. With its ability to improve blood circulation, reduce inflammation, and enhance overall comfort, this device empowers users to take control of their well-being and enjoy a life with reduced discomfort.
Zoppler is reader supported and may earn affiliate commissions from links on this page. We support and believe in all the products and services we promote and are affiliated with.