Unlocking the full potential of our bicep workouts lies in the often overlooked realm of cable bicep curl attachments. These seemingly simple additions to our exercise routine hold the key to optimizing muscle development and achieving superior gains.
While traditional bicep curls have their place, diversifying our approach with different cable attachments can make a world of difference. This article delves into the compelling reasons why using various cable bicep curl attachments is essential for fitness enthusiasts and athletes alike. From targeting specific areas of the biceps to engaging stabilizing muscles and preventing imbalances, we explore the science-backed benefits that these attachments bring to our workouts. Whether you're a seasoned lifter or a novice, understanding the importance of these versatile tools is sure to revolutionize your fitness journey.
The Benefits of Cable Bicep Curls
Cable bicep curls offer a bevy of benefits beyond just providing variety.
Increased Time Under Tension (TUT)
Cable machines maintain a constant level of resistance throughout the entire movement of a bicep curl. This means your biceps stay under tension for a longer time compared to using dumbbells. The longer the muscle is under tension, the more muscle fiber activation, leading to greater muscle hypertrophy (growth).
You know that feeling of relief when you get to the top of a dumbbell rep?
With a cable curl, there's no break. Your muscle remains engaged and working throughout the full range of motion.
Position Adjustments
Cable machines allow you to adjust the height of the pulley position, providing flexibility to target different parts of your biceps. Standing, seated, inclined, or prone positions are all possible with a cable machine. This diversity challenges your muscles from different angles and promotes balanced strengthening and sculpting.
Try this cable bicep workout routine next time you hit the gym:
Bayesian Curls
This exercise targets the lower biceps. Stand with your back to the cable machine, with the pulley set to the lowest position. Grab the attachment with your palm facing upward, keeping your elbow close to your body. Curl your hand toward your shoulder, then slowly release.
Cable Hammer Curls
Use a rope attachment, and hold it with palms parallel to each other. Keeping your elbows at your side, pull your hands to your shoulders. Pause, then slowly lower back down.
Rope hammer curls are great for targeting the brachialis, a muscle that can push your biceps up more visibly and really create those peaks.
High Pulley Cable Curls
This targets the upper biceps and involves a bit of your shoulders. Set the cable pulley to the maximum height. Facing the cable machine, grab the handle and curl it towards your ear while keeping your elbow stationary.
Attachment Variations
Different attachments can work your muscles in varied ways, promising a fuller, more effective workout.
They can target different areas of the muscle, like:
Biceps Brachii (Long Head and Short Head): The main muscle we think of when picturing a bulging bicep.
Brachialis: Often overlooked, this muscle sits underneath the biceps brachii and contributes significantly to upper arm girth.
Brachioradialis: This muscle is part of the forearm but contributes to the overall look and strength of the bicep.
By targeting these independently, you can ensure a balanced and comprehensive bicep workout—and some killer arms!
Attachment Type: Curl Bar

Muscles Worked & Usage
A classic curl bar is one of the most popular attachments to do cable bicep curls with. You can place your hands in two different main grip positions – inner and outer. Using the outer grip area will target more of the biceps brachii long head and brachialis on the outer part of the bicep, and lifting from the inner grip area will focus the tension more on the biceps brachii short head portion of the muscle on the inside of the arm. To be clear, both grip positions will target the entire bicep, each one just adds a little more focus in different spots. You can even use the curl bar with an overhand pronated grip for reverse curls, which of course targets the entire bicep, but puts lots of focus on the brachioradialis which is on top of the forearm.
Product Description
We think this heavy grade
aluminum curl bar by Body-Solid
Tools is the perfect bicep curl bar attachment. We like how it doesn't have the rubber grip areas, which even though can be cushy and comfortable, are oftentimes thick and pigeon hole you to a certain grip position. This curl bar is knurled, which means it has little dimples / texture around the grip areas to ensure you don't slide around, but it's not intrusive like rubber is. Also, some curl bars have round knobs on the ends to keep your hands from sliding off, but those knobs can get in the way if you want to position your hands at the end of the bar, which is especially common for reverse curls. Beyond that there is not much more to explain, it's a pretty simple straightforward product. It is 30.5″ in length, and is made from rust-proof and lightweight, yet heavy grade, aluminum. Even though it's called a curl bar, you can also use it for exercises like tricep pull-downs, rows, lat pulldowns, front shoulder raises, etc.
Attachment Type: Tricep Rope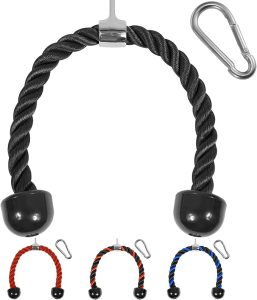 Muscles Worked & Usage
Even though these are typically called tricep ropes, they can obviously be used to workout your biceps, shoulders, back, and even legs with certain exercises (though not common). The most popular, and for the most part the only, bicep exercise you will use this for is the cable bicep curl. This essentially mimics the movement you would be doing with hammer curls using dumbbells, which works mainly the long head of the bicep along with the brachialis and brachioradialis. The most typical position to be in is standing, but you can also lay on the floor or set yourself up on a flat bench or adjustable incline / decline bench. The different position variations, whether cable or body position, are versatile and will help target different parts of the bicep muscle while also catering to your personal preferences.
Product Description
We chose this tricep rope, or
bicep rope
if you will, from Yes4All for several different reasons:
* It comes in 2 different lengths – 27 inch and 36 inch (We recommend the longer size since you can always choke up on it)
* It's very affordable
* It has great Amazon reviews – over 10,000 ratings with 4.8 stars
* It comes in 4 different color options – black, red, red & black combo, blue & black combo
This product is made with high quality nylon braided rope. The attachment for the cables is chrome plated and it comes with a stainless steel carabiner that will attach to any normal cable machine. The large plastic blocks on the ends keep you from slipping off the rope, and towards the end of a workout when your grip strength is shot, you will be glad they are there. If you decide to add this attachment to your collection you will be very pleased when it's time to get a pump not only on your biceps, but for your triceps, back, and shoulders too.
Attachment Type: Straight Bar

Muscles Worked & Usage
The difference between using a curl bar (like the one above) and a straight bar like this one is very small, but it is very different indeed. It completely changes your grip and the angle of your hands, which in turn changes the part of the bicep the tension is focused on. While the straight bar indeed works your entire bicep, it definitely focuses the weight more on the short head part of the biceps brachii muscle, that is if you are doing standard supinated curls. If you are holding the bar with a pronated grip for reverse curls, you are going to work more of the long head portion of the muscle with a lot more focus on the brachialis and brachioradialis. Not only can you do a cable bicep curl standing, laying, or sitting (on a flat or adjustable weight bench), but you can also use the straight bar to do tricep exercises, shoulder exercises, and back exercises.
Product Description
We chose another product by Yes4All because they seem to make some very solid and simple cable attachments. We are not fans of the versions that have rubber grips and/or ball stoppers at the end, so their simple design reigns supreme once again. Made from a combo alloy steel,
this straight bar
has a good weight to it but isn't too heavy. Instead of having the intrusive rubber grips, it has a knurled surface which provides all the anti-slip protection you need. The chrome color is cool, and the black option looks pretty sick too. The swivel shackle where it attaches to the cable swivels so you can get a full range of motion with your exercises. It is 18″ long. which is perfect for what you will be using it for. Sure, cable bicep curls will be one of the main exercises you do with it, but you can also do overhead tricep extensions, lat pulldowns, lat pullovers, rows, tricep pulldowns, and more.
Easy Weight Changes
Changing the weight of a cable machine is as easy as moving a pin. This makes it convenient for drop sets wherein you start with a heavier weight, perform as many reps as possible until failure, then drop down to a lighter weight and continue. This is an excellent method for muscle fatigue and growth.
It also helps supersets, where you perform two exercises back-to-back without any rest in between—switching from a heavier to lighter resistance in no time.
For at-home training, choosing a cable-machine attachment that fits your workout can be more cost-efficient and space-saving than a set of bulky dumbbells for at-home training.
The Importance of Cable Bicep Curl Attachments
Everyone serious about resistance training should get comfortable with cable attachments. They are key pieces of equipment that support a varied and effective workout regimen. Let's discuss why they are important.
Grip Comfort
Different attachments offer varied grip options, influencing how comfortable each bicep curl feels. Choosing the right attachment can alleviate pressure or discomfort in your hands or wrists, ensuring you can focus on the targeted muscle rather than dealing with unnecessary pain.
Switching grips can also prevent overly repetitive strain, reducing the chance of developing conditions like tendonitis.
Injury Awareness
Protecting yourself from injury is paramount in any workout. Luckily, cable machine attachments help, offering safer alternatives to free weights.
Due to their design, cable attachments distribute weight evenly, reducing your likelihood of injury due to incorrect form or instability. This can be especially beneficial for beginners and anyone recovering from a previous injury.
Muscle Targeting
Different attachments allow you to hone in on distinct muscle groups, even within your biceps. By changing attachments, you can switch the focus from the biceps brachii to the brachialis or brachioradialis, ensuring a well-rounded workout.
This is true for other muscles groups, too, like:
Deltoids: The large muscle responsible for lifting the arm and giving the shoulder its range of motion.
Trapezius: The muscle at the base of the neck that helps move and rotate the shoulder.
Triceps: The muscle located at the back of the upper arm, used in pushing movements.
Latissimus dorsi: The large, flat muscle on your back that gives the appearance of a V-shaped body.
Effective targeting can improve muscle tone and growth, leading to noticeable improvements in your physique.
Exercise Customization
Cable attachments offer a custom workout experience, allowing you to switch up both the intensity and range of motion of your exercises.
You're not limited to just a few bicep curl variations; with the right attachments, you can incorporate moves for your back, triceps, and shoulders into your routine—making for a comprehensive upper-body workout.
Availability
Ever shown up to the gym and every machine is taken, or you're waiting for a pair of dumbbells to free up? The beauty of cable machine attachments is that they're usually available, even during peak gym hours. If there's a certain one you just can't live without, bring it!
Most are compact and portable, enabling your perfect workout whenever necessary. Having a variety of cable attachments at your disposal allows for immediate switching between exercises with minimal fuss. It also gives you an excuse to get a cool looking gym bag.
Nothing breaks your workout flow more than waiting for the right equipment to be available. With your own set of cable bicep curl attachments, you can keep the intensity going, bringing you one step closer to achieving your fitness goals.
Wrap it Up
In conclusion, the significance of incorporating various cable bicep curl attachments into our workouts cannot be overstated. These attachments offer unique benefits, enabling us to target different parts of the biceps and engage stabilizing muscles effectively. By diversifying our exercises, we stimulate muscle growth, prevent imbalances, and reduce the risk of injuries. The versatility of cable attachments ensures continuous progress and motivation for both beginners and advanced lifters. Embracing these tools unlocks a world of possibilities, leading to enhanced muscle development, strength gains, and a more fulfilling fitness journey overall.
Zoppler is reader supported and may earn affiliate commissions from links on this page. We support and believe in all the products and services we promote and are affiliated with.