In this article, we'll be diving into the world of indoor cycling shoes women should consider, exploring the top five options that offer the perfect blend of performance, comfort, and style. When it comes to maximizing your indoor cycling experience, having the right gear is key, and at the top of the list are the right shoes. Indoor cycling has gained immense popularity among women, offering a fantastic way to stay fit and motivated all year round. To ensure that you're getting the most out of your indoor cycling sessions, it's crucial to invest in the perfect pair of indoor cycling shoes.
Whether you're a dedicated spin class enthusiast or prefer to pedal at home, these indoor cycling shoes will elevate your workouts to the next level. So, let's lace up and discover the best options for Indoor Cycling Shoes Women need to have in their fitness arsenal.
Let's get right into our top 5 list and then we will review all the info after…
Top 5 Best Indoor Cycling Shoes Women Will Love (in no particular order)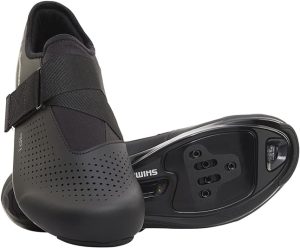 The
SHIMANO SH RP1 Unisex Cycling Shoes
have certainly made an impression on the cycling world. Shimano's reputation in the cycling world is well-deserved, and the RP1 lives up to the brand's legacy. These shoes offer a fantastic blend of versatility and performance. Whether you're hitting the road or heading to an indoor cycling class, the RP1 has you covered with its adaptable 5-hole outsole, compatible with both SPD and SPD-SL cleats and clip-in pedals.
One of the standout features is the fiberglass-reinforced sole, which ensures every ounce of your energy is efficiently transferred to the pedals, giving you that extra push when needed. The secure fit provided by the Y-shaped cross strap closure enhances comfort and pedaling efficiency, making those long rides a breeze. The soft, sock-like upper is not only comfortable but also easy to slip on and strap up for a custom fit. Additionally, the highly breathable mesh upper keeps your feet cool and dry even during the most intense rides. If you're a cyclist looking for a reliable, versatile, and comfortable shoe that performs both on the road and indoors, the SHIMANO SH RP1 should be at the top of your list.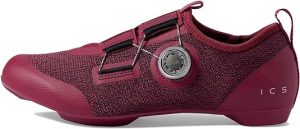 The SHIMANO SH-IC501 High Performance Indoor Cycling Shoe is a game-changer for indoor cycling enthusiasts, and this reviewer couldn't be more impressed. Designed exclusively for indoor cycling, these shoes offer a blend of performance and comfort that sets them apart. The inclusion of FUZE technology is a standout feature, effectively combating post-workout odor from sweat, ensuring that you step into every session with confidence.
What truly sets the IC501 apart is its commitment to maximizing performance. The BOA dial system allows for precise adjustments, delivering an instant snug fit, ensuring every ounce of your effort translates to power on the pedals. The stiff sole and SPD/2-hole cleat compatibility guarantee efficient power transfer, making each workout count towards your personal best. Additionally, the grippy rubber sole, which minimizes the tap shoe effect, adds to the overall convenience of these shoes. If you're a dedicated indoor cyclist looking for a shoe that combines performance, comfort, and odor control, the SHIMANO SH-IC501 is a worthy investment for your indoor training sessions.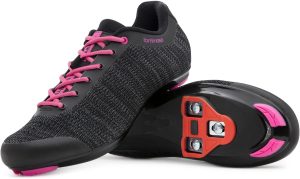 Tommaso's Pista Knit Women's Cycling Shoe has the female cycling community impressed. As a company with a rich history dating back to 1985, their commitment to quality and innovation shines through in these cycling shoes. The pre-installed premium Look Delta cleats designed specifically for Peloton enthusiasts eliminate any installation hassles, allowing riders to fully engage their leg muscles and ride like champions.
What truly sets these shoes apart, besides their functionality, is their style and comfort. The traditional lace-up system not only adds a touch of old-school charm but also ensures a secure fit for both wide and narrow feet. The XD-knit, form-fitting upper provides exceptional ventilation, keeping feet cool and dry during intense rides. And speaking of performance, the no-flex fiberglass-infused vented soles offer the stiffness needed for longer, faster, and more controlled rides. With a reinforced, wide toe box ensuring proper foot positioning, these shoes deliver on every front. Tommaso's Pista Knit Women's Cycling Shoe not only performs exceptionally well but also adds a touch of style and comfort to every ride, making it a top choice for Peloton enthusiasts and cycling aficionados alike. Plus, with Tommaso's impressive track record and lifetime warranty replacement promise, riders can enjoy their cycling journey with utmost confidence.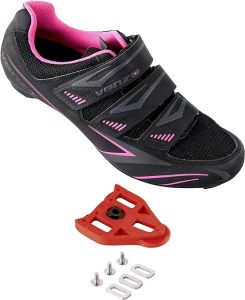 The
Venzo Bicycle Women's Cycling Riding Shoes
are a must to check out for yourself. These shoes strike an impeccable balance between comfort and performance, making them a versatile choice for various cycling activities, from road riding and commuting to touring and spin classes. The compatibility with a wide range of cleat types, including Shimano SPD, SPD SL, Look KEO, Look Delta, and Crankbrother, ensures that they cater to riders with diverse pedal systems.
The features of these shoes are a testament to their quality. The quick-drying, highly breathable mesh and synthetic upper keep feet cool and comfortable even during long rides. The 3-strap design allows for quick and easy changes, and it securely holds the feet in place, maximizing power transfer to the pedals. Additionally, the inclusion of a pair of Delta cleats with 9-degree floating and adjustable resistance adds extra value to this package. The tough and stiff sole not only ensures efficient energy transfer but also provides heat insulation during extended rides. With a 2-year warranty and the confidence of being made in Taiwan, these Venzo cycling shoes are an excellent choice for female cyclists seeking performance, comfort, and versatility in their footwear.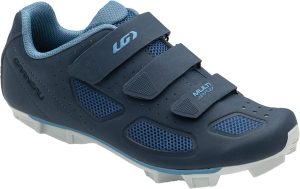 The
Louis Garneau Women's Multi Air Flex Bike Shoes
have been winning over female cyclists with their versatility and comfort for more than 40 years. These shoes are a true all-rounder, suitable for various cycling activities, whether it's training, commuting, weekend rides, or spin classes. The roomier standard fit and convenient hook and loop fasteners make adjustments on the go a breeze, ensuring all-day riding comfort.What sets these shoes apart is their breathable design, which eliminates the problem of overheated feet during intense workouts. The synthetic leather and mesh upper, combined with the ventilated EVA insole, provide excellent airflow, keeping feet cool and comfortable. The nylon/fiberglass composite outsole offers the flexibility needed for walking while supporting the heel, and the HRS-80 retention cup keeps the heel securely in place during pedaling. The compatibility with SPD cleats adds to their versatility, making them a fantastic choice for riders looking for a well-rounded cycling shoe that excels in various conditions.
The Importance of Having Good Indoor Cycling Shoes
Having the right cycling shoes for your workout is key to getting the most out of it. Not only can having quality women's spin bike shoes help you increase power and performance, but they also provide a much more comfortable ride.
Cycling shoes are different from regular sneakers in that they:
Provide better power transfer from your legs to the pedals. This means you can generate more power with each pedal stroke, allowing for a faster and smoother ride.
Have stiffer soles that don't flex or bend when you push down on them, which reduces fatigue and increases support.
Have cleats that attach to the pedal, allowing for greater control over speed and direction while pedaling.
Help keep your feet securely in place so you don't slip off during intense rides.
Most studios will have cycling shoes available to rent. While these are most likely going to be quality shoes that have been handpicked by your spin class instructor, renting isn't always the best option. For starters, if you're investing in indoor cycling classes for the long run, it will probably be more cost-effective to own your pair.
You are also unable to customize the fit of the shoes, which can make your workout more uncomfortable than it has to be; and you can't be sure that they've been properly maintained. This means you could risk getting foot fungus or other diseases from shoes that haven't been cleaned well.
If you're serious about indoor cycling and want to get the most out of your workouts, then it's worth investing in a pair of shoes. They'll last longer and provide more comfort than a rented pair ever could.
Qualities That the Best Cycling Shoes for Women All Have
Every cyclist has different needs when it comes to choosing the right shoes. However, there are certain qualities that all great cycling shoes should have.
Comfort
The most important quality a cycling shoe should have is comfort. The last thing you want in the middle of your workout is for your feet to be uncomfortable or cramped. You should look for shoes with good cushioning and breathability.
Some shoes come with additional features, such as arch supports, which can help make them more comfortable. An important feature to look out for is adjustable straps, which can be tightened or loosened depending on how snugly you need them to fit.
Performance
Next, you should look for shoes that offer good performance. The best cycling shoes will have a stiff sole that helps with power transfer when pedaling. You should also make sure the cleats are compatible with your bike's pedals so you can get the most out of each pedal stroke.
Comfort and foot positioning are key for determining your performance, too, so look for shoes that provide good arch support and a secure fit. Remember – you can't perform at your best when you're uncomfortable!
Functionality
Functionality is another key quality of cycling shoes. Look for shoes with a clip mechanism that will hold your foot securely in place while pedaling. The cleat should be adjustable, so you can move it to the most comfortable position for your feet.
The laces or straps should also be adjustable so you can easily change the fit of the shoes to suit your feet. If you do get shoes with laces, they should stay tied. You don't want to have to stop to re-tie them in the middle of your ride or risk injuring yourself tripping or getting them caught in the machine.
Durability
The next important quality to consider is durability. You want a pair of shoes that can stand up to the rigors of your indoor cycling routine, especially if you attend spin class multiple times a week.
Look for shoes with reinforced toe boxes and heel caps, as well as those made from high-quality materials, such as leather or synthetic microfiber uppers. Some materials to avoid are canvas and mesh, as they tend to wear down quickly.
Style
Style is also an important factor when it comes to indoor cycling shoes. Most of the time, you'll be wearing your shoes in a gym or studio, so having a stylish pair can make all the difference. Even if you are using a spin bike at home, you still want to like what you see when you take glance over at the mirror.
Look for shoes that come in bright colors and interesting patterns, or go for a neutral color if you have more minimalistic tastes. Use your cycling shoes to express your unique style and it may just help you find a new gym friend!
Owning the Right Spin Shoes Will Motivate You to Take Your Cycling to the Next Level
While comfort, performance, functionality, durability, and style are all great to consider when choosing your spin shoes, the main reason to buy a pair is to increase your motivation and help you take your cycling seriously.
A casual cycler can get away with using regular sneakers, but if you're looking to increase your cycling performance and efficiency, investing in the best women's cycling shoes on the market is a must.
Not only do you work better and more efficiently, but you feel more professional and serious about your cycling with a pair of good cycling shoes. There's just something about having the right gear that gives you an extra boost of motivation.
In the next section, we'll take you through a list of the best spin shoes for women on the market today. They have all the factors we've listed above and more to make your spin class experience as enjoyable and effective as possible.
Zoppler is reader supported and may earn affiliate commissions from links on this page. We support and believe in all the products and services we promote and are affiliated with.