Yoga has become a popular form of exercise, relaxation, and mindfulness for many people around the world. And for good reason – according to Harvard Health Publishing, yoga is proven to help eating habits, weight loss, cardiovascular health, and overall fitness.
As its popularity grows, so too does the variety of clothing options available to help make your practice more comfortable and enjoyable. Yoga pants have been a staple of fashion for years, but one increasingly popular option is super short yoga shorts, or yoga booty shorts, which allow you to move freely and in style.
In this article, we'll take a look at five of the best super short yoga shorts women and men love on the market today and learn more about how this functional fashion piece can help you with your yoga routine.
Why is it so Tough to Find Super Short Yoga Shorts?
Although yoga shorts have been around for decades, it can still be difficult to find super short yoga shorts that fit and look good. This is because most clothing companies make them longer than traditional shorts. They think buyers want more compression and don't want them riding up. This often results in a pair of shorts that are too long and not flattering on the body. Not to mention the length often causes chafing and constricts your range of movement.
In addition, many companies use cheap materials that lack breathability or wick away moisture from the skin. This is because they do not primarily manufacture athletic clothing and are just trying to hop on the yoga fashion trend. Due of all these factors, many of these companies just make basic yoga attire that is easier to pass off as quality, which doesn't include super short yoga shorts.
Finding a pair of super short yoga shorts with quality fabric and design can be challenging, but don't worry – we've got your back. Read on to learn what to look for in yoga shorts, why they're so popular, and how to get your hands on a high-quality pair.
Top 5 Best Super Short Yoga Shorts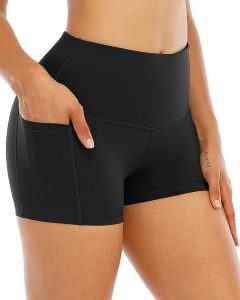 Most people haven't heard of CHRLEISURE, but they make some awesome yoga shorts that are shorter than most. Crafted from a blend of 75% polyester and 25% Spandex, these
imported high-waisted booty yoga shorts
offer an exceptional combination of softness and stretchiness through their 4-way stretch and non-see-through fabric. Notably, their super short design comes with a range of benefits. These shorts feature two generous outer pockets for your essentials and a discreet waistband pocket for cards and keys. Beyond functionality, they showcase a fashion-forward design that seamlessly blends relaxed elegance with feminine comfort, making them suitable for a variety of occasions from workouts to outings. These yoga shorts excel in being squat-proof and offering tummy control, ensuring a smooth silhouette without feeling overly restrictive. They are also durable, maintaining their quality with no pilling, non-fading, and unrestricted stretchiness.
What sets them apart is their remarkable comfort, thanks to their ultra-soft and buttery-smooth fabric, designed to feel like a second skin. Additionally, they are engineered with anti-irritation and seamless slip features, eliminating discomfort during movement. Notably, the crotch design adds to their comfort, addressing any concerns about camel toe. In summary, these super short yoga shorts not only offer style but also prioritize functionality, comfort, and performance, making them an excellent choice for various athletic and leisure activities.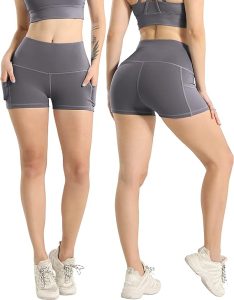 LZYVOO
is a yoga shorts and leggings specializer that makes an incredible product that people love. Made from a blend of 75% polyester and 25% spandex, these imported super short yoga shorts offer numerous benefits. The high-quality fabric ensures exceptional comfort, breathability, and sweat absorption, maintaining its integrity even after multiple washes without any pilling. Notably, these shorts feature convenient pockets, including two side pockets large enough to hold a 6.5″ phone and a hidden pocket for keys, credit cards, or your music device during workouts. The high-waisted design provides tummy control, accentuating your body's contours and enhancing your exercise appeal.
These versatile shorts are suitable for a wide range of activities, from daily errands to fitness routines, yoga, running, and even volleyball. They are also comfortable enough for bedtime or layering under dresses. Importantly, their super soft, squat-proof fabric conforms snugly to your body, ensuring they stay in place during exercise without becoming see-through. The inclusion of a triangular crotch design eliminates discomfort and concerns about camel toe, prioritizing your comfort and confidence during workouts.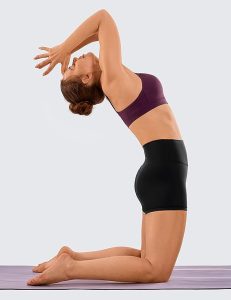 CRZ YOGA is a pure yoga clothing company that prides themselves on being a high-value experience brand. They even have a Butterluxe collection that uses very soft and lightweight materials. Constructed with a blend of 71% Polyamide and 29% Elastane, These
super brief yoga shorts
provide a variety of advantages for people who lead an active lifestyle. Designed with yoga and training in mind, they provide a second-skin fit that allows unrestricted movement. The fabric is not only sleek but also adept at wicking away sweat, ensuring you stay dry and comfortable during your workouts.
These shorts are buttery-soft, slightly compressed, squat-proof, and feature 4-way stretch, making them perfect for various activities. The seamless waistband is a standout feature, offering anti-drop functionality with an inner pocket and medium tummy control, all without digging in. Their high-waisted, 10-inch inseam design, along with the V-shaped back seam and gusset crotch, conforms beautifully to your body's curves. Whether it's yoga, fitness, Pilates, dance, cycling, running, or everyday wear, these 10-inch knee-length leggings are a versatile choice that combines style and performance seamlessly.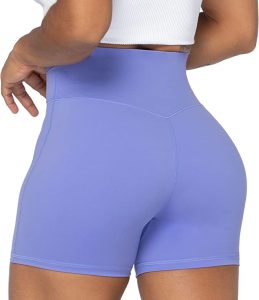 Sunzel is a very affordable activewear brand that offers the perfect product for people looking for a great pair of super short yoga shorts. The materials used are a blend of 70% Nylon and 30% Spandex, and really do feel incredibly soft and comfortable. Notably, they feature a unique V-shaped front waistband and a flattering back waistband that accentuate your curves beautifully. Made with double-brushed fabric, these shorts provide medium compression, offering a durable, ultra-soft, and breathable feel that's like a second skin, while retaining excellent stretch. They are incredibly versatile, designed to keep you comfortable all day long, no matter the activity.
These shorts stay in place without riding up, offer a naked feeling, are non-see-through, and include practical side pockets. They also provide tummy control, boast a high waist, and come with a seamless waistband, ensuring a secure fit. With their compression and superb stretchiness, these shorts are a must-have addition to your wardrobe. Plus, their 4-inch inseam length and classic yet timeless designs make them suitable for a range of activities, ensuring both style and functionality.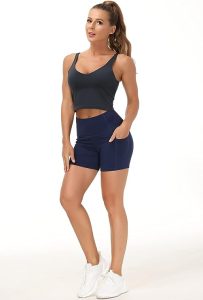 THE GYM PEOPLE is a newer activewear lifestyle brand that makes simple yet quality products. These
super short yoga shorts
are crafted from a blend of 88% polyester and 12% spandex, offering a range of exceptional benefits for women looking for less material. Their premium material boasts non-see-through properties, moisture-wicking abilities, quick-drying features, breathability, and a 4-way stretch that ensures comfort and maintains its shape even after numerous washes. Notably, these shorts include deep side pockets, perfect for securely holding your phone or iPod while you enjoy music during activities like walking or running.
Their high-waisted design incorporates tummy control, with a wide waistband that contours to your body's curves, offering both compression and support. These versatile shorts are suitable for a variety of occasions, combining fashion and function, making them ideal for yoga, exercise, fitness, Pilates, running, or any fitness-related activity. Plus, a size chart is provided for accurate sizing, and the option for online returns ensures you get the right fit without worries.
Qualities to Look for in Yoga Shorts
There are five main qualities you should be examining in your search for super short yoga shorts: breathability, weight, durability, compression level, and style.
Breathability
Any type of athletic clothing you buy should be made of breathable fabric. Look for fabrics that are lightweight and allow air to move freely around your body, such as cotton or bamboo-based materials. This will keep you cool and comfortable during your yoga practice, especially if you are prone to sweating or are trying out hot yoga.
Weight
The best yoga shorts for men and women are light and airy so you can focus on carrying your body weight into poses. Look for materials that are lightweight but still provide enough coverage, such as spandex or nylon blends. You don't want your shorts to be what's weighing you down while you practice!
Durability
You'll want to make sure that your shorts are durable enough to last through multiple yoga sessions without too much wear. Look for fabrics that have a high tear-resistance rating and won't easily snag when stretched. You may also want to check if the fabric is waterproof or water-resistant if you plan on doing hot or high-impact yoga that will cause you to sweat.  Factoring all this in will ensure that your shorts stay looking great session after session, and you won't have to buy a new pair anytime soon.
Compression Level
Compression helps to increase blood flow and reduce muscle fatigue during exercise, so the degree of compression you need from your yoga shorts will depend on the type of practice you're doing.
If you're doing a more vigorous practice, such as Ashtanga or Power Yoga, then look for shorts with higher levels of compression, or tight yoga shorts, to provide additional support and stability. For gentler styles like Hatha or Yin Yoga, lower levels of compression may be more comfortable.
Style
Style is important to consider when choosing any type of clothing, and yoga shorts are no exception. Look for shorts that match your style – there are a wide variety of styles available, from bright and bold colors to subtle monochrome designs. Expressing your style at yoga practice will help you feel more comfortable and might even gain you some friends. Super short shorts are used as women's or men's yoga shorts, so don't let gender connotations stop you from expressing yourself!
The Appeal of Super Short Yoga Shorts
Not sure if super short yoga shorts are for you? Here are a few reasons why yoga enthusiasts can't get enough of them.
Comfort
The most important feature of any piece of yoga apparel is comfort. This is because yoga can be strenuous and uncomfortable enough as it is. Super short yoga shorts are designed to keep you comfortable throughout your practice, no matter how intense it gets.
They are designed to provide maximum freedom of movement and breathability without sacrificing style. This makes them great for a variety of activities, from hot yoga to lounging around the house.
Range of Motion
Yoga involves a lot of stretching and contorting ourselves into different poses. Super short yoga shorts allow for an increased range of motion since they are not constricting like longer shorts or pants. This means you can move more freely and with greater ease while also feeling stylish and comfortable.
Super short yoga shorts also make it easier to practice inversions and other more advanced poses because they give you more room to move, so they are perfect for people who want to take their yoga experience to the next level.
Style
Yoga shorts come in a variety of styles, from bold and colorful to simple and subtle. Super short yoga shorts have the advantage of being both fashionable and functional. They can be paired with almost any top for a stylish look that transitions easily from yoga class to running errands or meeting friends for lunch.
They're also perfect to use as lounge or pajama shorts for a day spent at home. Who knows – wearing them at home may even encourage you to take your yoga workout beyond the gym!
Zoppler is reader supported and may earn affiliate commissions from links on this page. We support and believe in all the products and services we promote and are affiliated with.