Pilates has always been a popular form of exercise; it gains its appeal from being a combination of yoga and strength training through its various movements. Pilates has become so popular that there are now studios dedicated to allowing people opportunities to do it and get even better results.
These studios often provide Pilates reformer machines, which are used to make Pilates easier and more efficient. Reformer Pilates focuses on balancing your core before strengthening any other areas of your body, making them good for anyone. However, depending on the quality and location of the machine itself, the ability to get good results comes at a hefty price.
Fortunately, the creation of foldable reformer machines makes the process possible at home, but that leaves the question: what is the best foldable Pilates reformer that you can buy for your home?
First We Will Show You the 5 Best Foldable Pilates Reformer Machines You Can Buy For Home Use, and then We Will Dive-in to the Pros and Cons of Doing Pilates at Home vs Going to a Pilates Studio: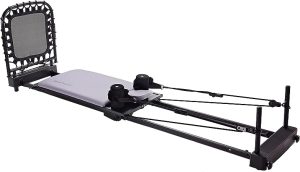 AeroPilates is a well-respected brand within the Pilates community, and they make several different foldable reformer machines for home use that will make you wonder why you ever went into the studio. This 4420 model provides a very affordable all-in-one home Pilates workout package, and with a 4.4 average star rating on Amazon it seems to be the real deal. This folding Pilates reformer comes with two regular black resistance cords, one yellow cord for light resistance, and one red cord for extra-heavy resistance. You can switch them out or stack them together for a super heavy workout.
It has an extra-large cardio rebounder that allows you to better target your lower body and core without feeling like you are running out of space. The pulley system is supposed to be super smooth and easy to adjust, making it easy and enjoyable to work out on and switch between movements and exercises. The hand and foot straps are furry and soft, providing comfort where other machines don't. To add even further to the comfortability of the 4420 are the high-density foam shoulder pads, adjustable cushioned head and neck rest, and textured standing platform.
The frame is of course foldable to help save space, and it even comes with wheels, so you don't have to lift it up or drag it. In case you don't already have your home Pilates course picked out, it comes with four workout DVDs that will walk you through how to use the equipment, the basics of Pilates, cardio routines, muscle building routines, HIIT workouts, and more.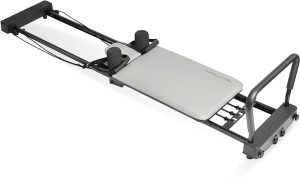 The 287 model is an even more affordable foldable Pilates reformer from AeroPilates, designed for beginners. When you fold it up for storage, it goes from being 85.25″ long to 42.5″ long, and from 9″ high to 6.5″ high, making it possible to store it in a closet and even under certain beds. One of the biggest differences between the 287 and the 4420 are the elastic bungee cords – this 287 model comes with 3 cords, and they do not differ in resistance strength like on the 4420. However, these 3 cords should be more than enough when it comes to giving you the opportunity to customize your workouts.
Another big difference is some of the comfort factors. The 287 does not have soft furry hand and foot straps like the 4420 does, and the head and neck rest does not have padding as soft either. For lots of people these little luxuries are not worth the bigger price tag, so depending on how you look at it this could be a plus for you. Instead of 4 DVDs, the 287 only comes with 3, but you still have access to all the material you need in order to learn how to use the equipment properly and more – DVD 1: an intro to AeroPilates, DVD 2: Full body AeroPilates Workouts, and DVD 3: Pure Pilates Level 1. It still comes with a nice big, cushioned platform and the same high quality frame materials.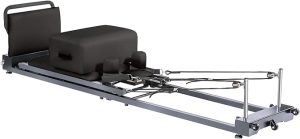 Faittd is a specialized Pilates brand that for 20 years has been making all sorts of reformers and accessories for reformer machines. Their products are VERY highly rated and are still affordable. This model is made of alloy steel, so it's very durable yet light enough to move by yourself. When it is not folded up, the frame is about 98″, and it goes all the way down to about 53″ when it's folded to store away.
The pads and shoulder rests on the machine are ergonomically designed and extremely comfortable. The foot bars lock into place easily, and there are 5 different positions for the spring bars. One cool feature about this machine is the 12-month warranty, which even covers light commercial use, and it will be repaired under lifetime guidance. Most Pilates studios have very elaborate expensive reformers, but this one is advanced enough where it is used for commercial purposes from time to time.
Not only does the Faittd reformer have an extremely smooth motion and high-quality parts, but it also comes with extra accessories that a lot of reformer machines don't. This product comes with the reformer box – which allows you to do a myriad of additional positions and exercises, and a padded jump board – which you can use to do lots more exercises and especially incorporate more HIIT training.
         
With not many ratings we understand why you might be hesitant to pull the trigger on this product, but after a deeper review we think you will agree that it's a very viable good option. The design is a bit different than most Pilates reformers for home, with a much lighter and more modern light look. There are other benefits and cool features with this machine as well.
The rebound feel and motion of reformer machines is crucial to a good Pilates workout, and Sean Lee uses imported alloy springs that are supposed to have not only a faster rebound than other types, but are also noiseless and have a longer lifetime. There are 4 springs that are adjustable and have a max resistance level of 84lbs. The material used on the surface of the pads and boards is made from high-quality UP leather, and it is anti-scratch and very comfortable.
When this machine is folded up, it only covers a 1.6 square feet area, and it even comes with rollers so you can simply move it under a bed or into a closet with some extra space. When it is not folded, it is 83.5″ long, 25.5″ tall, and 24″ wide. The white color of the machine gives it a unique modern look, and it would look great in any home gym or extra bedroom when not folded up and stored away.

The price tag for this folding reformer from JOYRIDER is a mile or two above the rest of the options on our list, but it's worth checking out for a few reasons. This is basically a commercial grade foldable reformer that is made with very high-quality materials and engineering. The action and motion on this machine are practically the same thing you will experience in high-end Pilates studios. It also comes in several different color options, which will make it much more design friendly in the case you didn't feel like folding it up and putting it away. It comes in a cool pastel palette of pink and grey, pink, and black, pink and white, white, white and black, and white and grey.
To provide some examples of why this machine demands such a high price tag, we will start with the fact it has 8 vertical and horizontal PU wheels, which help keep noise down and provide smooth gliding motion. It has 3 rows of resistance positions and 6 springs that can be adjusted to lots of different resistance level combos. The seat cushion is made from a super fiber PU leather which is very plush while fairly damage resistant. This reformer weighs about 174lbs, and that's because it has all the bells and whistles that a lot of true commercial Pilates reformers have, but it does have wheels that make it easy to move and roll around. There is that old saying "you get what you pay for," and with the JOYRIDER reformer you are surely getting a very high-quality piece of equipment.
Can Pilates Be Done Properly at Home?
At first, going to a Pilates studio seems more appealing than doing Pilates at home; they have all the reformer machines and other professional equipment. It might also seem daunting when thinking about the cost of reformer machines and the space they take up; however, that's really not the case.
In reality, you don't need a reformer at all to perform the exercises properly. Using various household items or other types of cheap fitness equipment (i.e., resistance bands, slider discs, and even folded towels/gym mats) can be used to replicate the mechanics of an commercial grade reformer foldable machine if used correctly.
If you still prefer using reformer machines, however, but don't want to go to a studio, there are quite a few high-quality ones you may be able to afford for your home. Keep in mind that these cheaper alternatives may not be as helpful as professional Pilates reformers, but they're a good alternative that can, and will, help you achieve your fitness goals.
Doing Pilates at Home Without a Reformer Machine
While you may be limited in some areas, it is absolutely possible to do Pilates at home and without a foldable reformer Pilates machine. The pulling mechanisms that typical Pilates machines have can be replicated with resistance bands attached to a wall or other objects. In fact, some specific Pilates moves, such as the Elephant Stretch and T-press, don't require any equipment at all!
If you like a little more structure and guidance, and you want to follow a program, there are several options you can follow for Pilates without a machine: PILATESBODY by Kayla, Pilates Anytime, Pilatesology, Speir Pilates, and Alo Moves, to name a few.
Benefits of Using a Foldable Pilates Reformer Machine at Home vs. Going to a Pilates Studio
No Expensive Fees
A foldable Pilates reformer for home can sometimes be pricey, but a membership at a Pilates studio is likely to be even more expensive as you're paying per class or at an hourly rate.
By doing Pilates at home — with or without a foldable Pilates machine — you'll likely be saving yourself both time and money, which we know are at a premium these days. Don't hesitate to invest in yourself and build your own Pilates Studio in the comfort of your home.
You Can Wear What's Comfortable
When you go to a studio or gym, let's be honest, you care how you look! Does your outfit look okay? How's your hair? Stupid questions we ask ourselves even though you'll be sweating, like should I wear make-up? It's natural for all of us that we want to look good and presentable to the outside world. Unfortunately, all those things are just distractions to be your best self and focusing solely on the workout.  If you do Pilates at home, however, you don't have to worry about makeup, clothes, or any other aspect of your appearance. Just wear whatever you feel comfortable in, and you're all set!
No Commute
There is no need to sit through heavy traffic or bad weather just to get to and from a Pilates studio. You're already at home, so why not just save yourself the hassle and do it there?
This is especially important to consider if you do not have a reliable mode of transportation, or you're worried about the cost of gas and the studio isn't within walking distance. If you're in one of these boats, doing Pilates at home would save you the trouble of worrying about any of that so you can just get right to it whenever you want.
You Still Have Access to Instructors Online
Just because you're not going to a studio for a class doesn't mean you have to do Pilates without any guidance (if you're home, you always have the option of doing them by yourself if you prefer, of course). There are still several online instructors available that can be watched either in real-time or through instruction videos.
You Can Make Your Own Schedule
Sometimes, our daily schedules are so packed that you just can't stick to a mandatory time frame every day or week to attend a Pilates class. You might not even be able to do any Pilates at all on some days.
The beauty of doing Pilates (or just about anything, really) at home comes from the flexibility it provides. With more control of your schedule, you can do Pilates at home whenever you want. So on the nights you can't sleep and the studios are closed, you can still get that workout in!
What Are the Downsides?
Unfortunately, there are some caveats to consider if you want to do Pilates at home instead of paying to go to a studio.
It is important to note that the reason why most high-quality Pilates machines are so expensive is because they have more capabilities (usually); and for most of us, we wouldn't have access to those types of professional equipment pieces at home. Even with a foldable reformer Pilates machine at home, you might not get the same result you would get from professional equipment.
There is also the fact that if you don't sign up for a Pilates class, you won't have any guided personal instruction to help you perfect the various movements and poses. You can learn how certain movements look through online instructors and videos, but you may never do them correctly without an instructor to give you proper feedback, and sometimes it is the little tweaks and corrections that make all the difference.
Additionally, you may end up bored with your Pilates routine if you don't have a class to give you more energy and enthusiasm. When you're working out with others, you feed off the energy of the room. There will be times when you want to quit, but you won't let yourself because the person next to you is still going strong and you want to compete. Watching someone else push through the struggle can give you the inspiration and motivation to do the same.
Wrap-up
When it comes down to it, the choice to invest in one of the five best foldable Pilates reformer machines is a decision that can significantly enhance your fitness journey while offering numerous advantages over traditional studio classes. These machines provide the flexibility of practicing Pilates in the comfort and privacy of your own home, eliminating the need for costly studio memberships and commuting time. With their innovative design and versatility, they cater to various fitness levels and allow for a personalized workout experience. Moreover, they ensure consistency in your training regimen, even on busy days. By owning a foldable Pilates reformer, you not only save money and time but also gain the convenience of sculpting a healthier, stronger, and more flexible body on your terms.
Zoppler is reader supported and may earn affiliate commissions from links on this page. We support and believe in all the products and services we promote and are affiliated with.