No one would train for the Indy 500 in a Subaru, or for a figure skating competition in a pair of hockey skates. The same logic should apply when you're looking for the perfect set of trainers for half marathon races; having the right pair of marathon trainers drastically improves your performance and makes the physical and mental strain of the race much more manageable.
Whether you're new to the sport or an experienced racer, selecting the perfect shoe is critical in seeing you through the training and race day itself. From lightweight cushioning to extra comfort features, there's something for everyone, no matter what kind of runner you are.
The Best Half Marathon Shoes Share These Qualities
Any runner will tell you, there's a lot that goes into the perfect pair of half marathon trainers. If you're used to walking into a store and grabbing the first pair that looked cute, you are in for an entirely new experience. Here are a few of the qualities that every marathon-ready pair of trainers will have.
Cushioning – Running long distances, such as a half marathon, means repetitive impact on your feet and joints. Good cushioning helps to absorb some of that shock, reducing the risk of injury and foot fatigue
Perfect Fit – Your shoes should feel snug, but not too tight, with enough room in the toe box to wiggle your toes comfortably. Ill-fitting shoes can cause blisters, and discomfort, and even affect your running form.
Ventilation – Look for shoes that offer good breathability, allowing air to circulate and keeping your feet cool and dry throughout your run. This helps to prevent unpleasant blisters and keeps your feet feeling fresh.
Stability and Support – Features such as a firm midsole or a pronation control mechanism are vital if you have overpronation or flat feet. This helps to promote proper alignment and reduces the risk of injuries
Durability – Half marathons involve a significant amount of mileage, so you'll want shoes that can withstand the wear and tear. Look for shoes with sturdy materials and reinforced areas, particularly in high-wear areas like the outsole and toe box.
Style – While the aesthetic appeal may not directly impact your performance, having shoes that you feel confident and excited to wear can contribute to a positive mindset during your runs.
Remember, everyone's feet and running needs are unique, so it's essential to find the shoes that work best for you. Don't be afraid to visit a specialty running store, where experts can help you find the perfect fit and provide personalized recommendations based on your specific needs and running gait.
Marathon Trainers vs Race Day Shoes
Shoes have never been one-size-fits-all, and this is even more true when you get into running-based activities. It might sound like overkill to have multiple pairs of shoes, but there are actually tons of benefits to instating a shoe rotation.
Durability
The first reason to consider having more than one pair of marathon shoes is the most apparent; you're going to be putting a lot of miles in to prepare for your half marathon, and while your body will get stronger the more you run, your shoes will not.
Every time you wear your shoes, the sole is compressed. The shoe needs time to return to its full capacity, and if you're running every day it won't have enough. Having a separate pair that you can cycle in ensures your shoes last as long as possible.
On top of that, if you invest in a pair of trainers that are made specifically for running on trails (or running at all), wearing them to do other things will wear down the tread and ruin their bounce. Some shoes are so niche that even standing in them for long periods of time will wear them down.
Different Terrain
As mentioned before, shoes made specifically for running trails have softer treads than those made for running on concrete. Using them to run around your neighborhood will lead to accelerated deterioration.
On the other hand, wearing your regular trainers on rough terrain can lead to safety issues. High-performance trail running shoes have deeper treads, and more stability features to give you traction and keep your ankles secure.
Having the ability to choose the proper footwear for the specific run you're going on keeps both you and your shoes on the up and up.
Reduced Risk of Injury
Repetitive movement is the main cause of most running-related injuries. When you run wearing the same shoes every day, your body remains in a fixed position. This constant stress on your muscles and joints can lead to fatigue and injuries. However, by rotating your running shoes, you can change your body's position and alleviate the repetitive stress.
One effective strategy to work your body in different ways and reduce the risk of injury is to try shoes with varying heel-toe drops. Even a small change of 2 mm can make a big difference. This slight alteration in your running position can create diversity and make you stronger.
Different Speeds
As you level up in your running game, things start to get more interesting. You begin to spice up your runs with varying speeds and intensities. Some days you're in the mood for a relaxed and easy jog, while on others, you unleash your inner sprinter. All of this is important when you're training for a half-marathon, but it will require different shoes.
Imagine a cushy, cloud-like shoe that's perfect for those slow recovery runs when you want to take it easy and pamper your feet.  Faster runs will require a shoe that's lightweight and responsive.
On race day, in particular, an extremely lightweight shoe is going to give you all the responsiveness and performance you need.
Options are Fun!
Having multiple shoe options is a delightful way to express personal style and cater to various occasions. Each pair tells a unique story about who you are, allowing individuals to switch seamlessly between looks and moods, which brings an element of excitement and creativity to our daily training routines. The best part about marathon trainers is that there's no shortage of diversity in designs, colors, and materials that grants the freedom to curate ensembles that resonate with one's personality. Furthermore, experimenting with different shoe options fosters a sense of adventure and self-discovery, enhancing confidence and boosting overall morale.
Top 5 Best Trainers For Half Marathon Races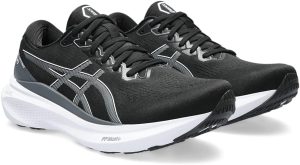 Weight: 303 grams / 10.6 ounces
Heel Drop: 10mm
Support : Neutral
Cushion: Maximum
Color and Style Options: Eleven

Famous for their cushy and lightweight gel injection, ASICS is one of the biggest brand names in running shoes, and they are a great company to check out and browse trainers for half marathon races. The
GEL-KAYANO 30
is one of the most popular models, and for good reason. Weighing in at only 303 grams / 10.6oz, the GEL-KAYANOs are extremely lightweight and perfect for running long distances. They include ASIC's new 4D Guidance System, which helps guide your foot with each stride and actually adapts as your running form changes over distance. The heel has an increased bevel from past models so that impact is more controlled and with smoother transitions. The sculpted midsole provides more lateral compression for tight turns and different elevations. The basenets (area towards the front of the shoe) are extra wide for a very stable platform. Not only do they have the new PureGEL technology which makes them extremely shock absorbent, but they also have what is called FF BLAST PLUS ECO cushioning for an even more comfortable and cushy experience.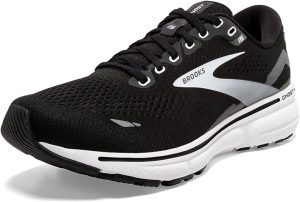 Weight: 286.3 grams / 10.1 ounces
Heel Drop: 12mm
Support: Neutral
Cushion: Medium-High
Color and Style Options: Thirty-nine

Brooks is not really a household name like ASICS, Nike, or Adidas, but in the world of running they are one of the undisputed top dogs. They are known mostly for their superb material quality and the custom feel, shape and form their shoes have on your feet. Marathon training running shoes have to feel like they are a part of you, and the
Brooks Ghost 15
does just that and more. Before we get into more details about the shoe, we want to mention that 57% of the upper part of the shoe is made from recycled materials, which great to see in a wasteful world. These shoes are even lighter than the Asics GEL-KAYANO at 286.3 grams / 10.1 ounces, and when you are running long distances every gram counts. Their new midsole features softer and lighter-weight DNA LOFT v2 cushioning to help keep you comfortable, with a unique balance of air, rubber, and a less dense, lighter foam which creates a plush feel.  The soft midsole and Segmented Crash Pad combine to create a very smooth flow from toe-off to landing. The upper part is made of engineered air mesh and provides great breathability and a molded foot feel.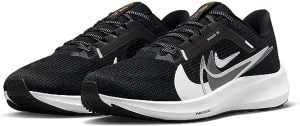 Weight: 266 grams / 9.4 ounces
Heel Drop: 10mm
Support: Medium-high
Cushion: Medium
Color and Style Options: Depends on exact model, but at least two

Nike is pretty much the founding father of modern running shoes, so it makes perfect sense they have at least one slot in our top 5 trainers for half marathon list. The
Pegasus 40
is a great well-balanced marathon trainer that you can be confident in. They are known to have a very springy and cushy feel with good support for your heels and the balls of your feet. Over the years, Nike has made the Pegasus 40 in a way that makes it feel very molded to your foot, and that is mainly due to the unique shape, single layer mesh, and midfoot strap. The waffle pattern on the bottom is a big Nike calling card that provides great traction. The heal area optimizes each landing and helps improve durability and transitioning. Nike has what is called Nike React technology, which is a durable and lightweight foam that helps give the shoe the famous bouncy, yet cushiony feel. Whether you are more of a heel striker or forefoot striker, the Pegasus 40 is neutral enough where it provides every runner with balanced support.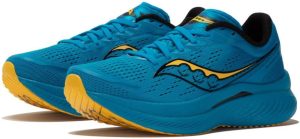 Weight: 204 grams / 7.2 ounces
Heel Drop: 8mm
Support: Neutral
Cushion: Medium
Color and Style Options: Eighteen

Believe it or not, Saucony was founded in 1898 and has been one of the world's leading running brands ever since. Saucony makes very high quality running shoes that are lightweight, durable, and comfortable. Their
Endorphin Pro 3 model
is one of the best half marathon trainers you can buy. They are one of the most lightweight running shoes we have come across yet! They include Saucony's patented SPEEDROLL Technology that is supposed to propel you forward by utilizing strategic geometry in the design. They also include Saucony's high performance PWRRUN PB foam cushioning for comfort and blister control. The S-curve carbon fiber plate in the sole gives you a good amount of spring and pop with each stride. The heel drop is on the smaller side, so it doesn't have as much of the running arch as some of the others on our list, which is actually much more comfortable for some people. The upper part of the shoe is made from a lightweight breathable mesh, and the reviews say it's very comfortable and soft.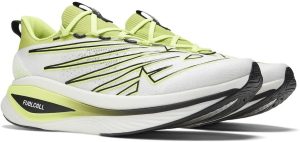 Weight: 230.4 grams / 8.1 ounces
Heel Drop: 4mm
Support: Medium-high
Cushion: Medium-high
Color and Style Options: Four

New Balance has been a leader in the running shoe market since 1906, and they are one of the most popular brands across the US and Europe. The
FuelCell SuperComp Elite v3
is a marathon training shoe at its finest. This shoe is designed with the intention to increase energy return by utilizing lightweight materials within their unique Energy Arc system. The Energy Arc system places carbon fiber plates geometrically sound within the midsole voids, which is supposed to increase stored energy and release it exponentially. The FuelCell foam that the sole is made of delivers an energetic bounce-off that propels you forward. Having a built in tongue not only makes this shoe extra comfortable, but it helps keep them comfortable and secure on your feet, which can come in handy especially during long runs. This shoe was built for racing and is 100% worth at least checking out.
Wrapping it Up
In conclusion, selecting the right trainers for half marathon races is an integral aspect of optimizing performance and ensuring a successful journey from start to finish. The top 5 options outlined above – each offering a unique blend of cushioning, support, and durability – cater to diverse needs and preferences of runners. Remember, the choice of trainers is a personal one, influenced by individual biomechanics and training regimens. Whether it's prioritizing comfort, stability, or speed, the key lies in finding the perfect fit to enhance your half marathon experience. So lace up your chosen pair of trainers for half marathon races and stride confidently towards that finish line.
Click here for more articles about marathon training!
Zoppler is reader supported and may earn affiliate commissions from links on this page. We support and believe in all the products and services we promote and are affiliated with.