Olive oil is a wholesome and nutritious ingredient that's used in many dishes and recipes. It's rich in healthy monounsaturated fats, packed with vitamins, and it's flavorful, making it an easy addition to any healthy diet and lifestyle.
But what about if you're on the keto diet? Is olive oil keto-friendly? And, if so, what is the best keto olive oil for your diet?
Before we get into the thick of things, check out our top 3 picks below (in no particular order):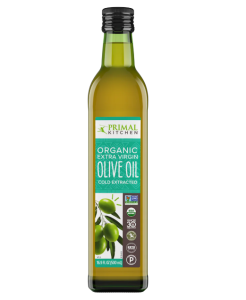 Product Description: The Primal Kitchen Organic Extra Virgin Olive Oil is truly a standout product that has earned its place in many kitchens. This olive oil comes with an impressive set of certifications, including Whole30 Approved®, Certified Paleo, Keto Certified, and Certified Organic. It's also reassuring to note that it's Non-GMO Project Verified and NAOOA Certified, attesting to its quality and purity.
Cooking enthusiasts find this olive oil to be an invaluable addition to their collection. Its versatility is a major selling point – whether drizzling it over salads, sizzling it in various dishes, dunking bread, or dressing favorite recipes, it delivers a rich and flavorful taste. With Primal Kitchen's commitment to using high-quality, real-food ingredients, this extra virgin olive oil offers a healthy and delicious option for enhancing one's culinary creations. For those seeking a top-quality cooking companion, the Primal Kitchen Organic Extra Virgin Olive Oil is undoubtedly a choice worth considering.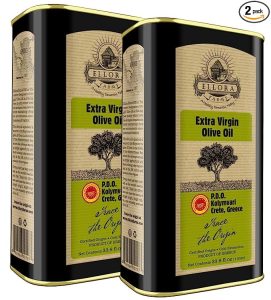 Product Description: The Ellora Farms Single Origin & Estate Traceable Extra Virgin Olive Oil is truly a remarkable product. It boasts an array of impressive qualities, starting with its low acidity, which falls within the range of 0.3 to 0.5%. Extracted at the source within hours of harvesting, it ensures freshness and a high polyphenol count of over 325 mg/kg, making it a nutritional powerhouse.
What sets this olive oil apart is its unique traceability feature. Each bottle or tin comes with a lot number that allows consumers to trace the origin of the olives used in their olive oil. This level of transparency brings customers to the Kolymvari region on the island of Crete, known globally for its top-quality olive oil. Additionally, Ellora Farms employs the innovative ECO-TRAP method to control the olive fruit fly without the use of harmful insecticides, making it an environmentally conscious choice. With its superior quality and health-promoting properties, Ellora Farms Single Origin & Estate Traceable Extra Virgin Olive Oil is a top choice for those looking to enhance their culinary creations and well-being simultaneously.

Product Description: Atlas Organic Cold Pressed Moroccan Extra Virgin Olive Oil is an extraordinary product with a rich history and a commitment to quality. Produced by Atlas Olive Oils, a 4 Generations Family Company with a tradition dating back to 1887, this organic extra virgin olive oil is sourced exclusively from their own Organic Family Farms. Trusted by Michelin Star Chefs, it represents a pinnacle of Moroccan culinary culture.
What sets this olive oil apart is its unique origin. The harsh desert environment in Morocco, with scorching temperatures and rocky soil, forces olive trees to produce an abundance of polyphenols as a survival instinct. The result is an olive oil with an exceptional hydroxytyrosol value, making it a potent source of antioxidants. Atlas Olive Oils takes a sustainable approach to their production, from planting olive groves to mechanical processes and first cold pressing. Choosing this olive oil not only means enjoying a premium organic product but also contributing to environmental preservation and supporting local communities in Morocco. It's a true embodiment of responsible development and culinary excellence.
Olive Oil and Keto – The Perfect Fat Match
Most people avoid fats like the plague when they're trying to lose a few extra pounds, but what if eating more fat was the secret to shedding extra weight and promoting a sleek, lean physique?
That's the idea behind the ketogenic diet, which requires individuals to eat lots of fat, some protein, and very few carbohydrates. The ketogenic diet primes the body, based on the types of macronutrients the person is eating, to burn fat as energy rather than carbs, resulting in less body fat, more lean muscle mass, and overall better health and well-being.
And the keto diet has never been more popular. In 2020 alone, more than 25 million Americans Googled information about the diet, showing a surge in interest compared to previous years.
Olive oil boasts many health benefits, but it's the high fat content that makes olive oil good for keto diets. Also, since keto diets can call for up to 75% of your daily calories to come from fat, it's a simple way to increase your calorie and macro consumption without eating inordinately large portions to meet your quotas.
Finding the Best Olive Oil for Keto Diet Recipes
So, if you're going keto, olive oil is a godsend, but not all olive oils are equal. Here are a few tips to help you determine the best olive oil brands to include in your healthy keto diet:
Look for Extra Virgin: Extra virgin olive oil, often abbreviated as EVOO, is the least processed, most nutritious, and most flavorful choice. EVOO is keto-friendly too!
Check for a Dark Bottle: Dark, glass bottles block out the light to maintain freshness.
Check the Harvest Date: Oils with a recent harvest date will taste fresher.
Cold-Pressed: As with most cooking and food preparation, heat wreaks havoc on nutrients. Cold-pressed oils preserve the oil's natural qualities and are more nutritious.
Following these tips will ensure you walk out of the grocery store, farmer's market, or other food retailer with the highest quality and best tasting olive oil for keto diet recipes and more.

Is There Such a Thing as Non-Keto Olive Oil?
The best brands for extra virgin olive oil contain 100% olive oil with no preservatives, no add-ins, and no other oil types that will compromise the quality of your keto olive oil.
Some olive oils, however, may sneak in extra ingredients that alter the macro breakdown. For example, some artificial or even natural flavorings could introduce additional carbohydrates that renders the olive oil unsuitable for keto diets.
Oils that are labeled as "light" options also tend to involve processes that change the oil's composition and ultimately alter the macro breakdown to point where it may not work for a ketogenic diet.
Always check the label to make sure your extra virgin olive oil is keto-friendly before buying.
Olive Oil and Ketogenic Diet Harmony
Olive oil and keto diets go hand-in-hand. Because the diet calls for higher quantities of healthy fats and minimal carbohydrates, it's an absolute match made in heaven.
But olive oil provides so much more to your diet than simply filling a macronutrient quota.
According to Nutrition Research Reviews, olive oil is associated with "a lower incidence of atherosclerosis, cardiovascular diseases and certain kinds of cancer." Another study, published in Current Pharmaceutical Biotechnology, found that oleic acid, a monounsaturated fatty acid found in olive oil, could have a positive effect on the genes linked to cancer.
Olive oil is also anti-inflammatory in nature, providing an effect similar to ibuprofen.
Overall, olive oil and ketogenic diets work well to promote dietary harmony, contributing to greater physical health and wellness as a result.
How is Olive Oil Made?
Olive oil comes from harvesting olives from trees, typically by hand or using a mechanical shaker, then before they are washed they get crushed into a paste and prepared for a process known as malaxation.
Malaxation involves taking that olive paste and slowly mixing it, allowing oil droplets to separate from the rest of the olive components. Then, the paste is pressed with a traditional hydraulic press, centrifuge, or decanter before being taken for further separation through use of a centrifuge or gravity system.
The extracted oil is filtered to remove water and impurities that might compromise the oil's integrity or nutritional content. Then, it is bottled in stainless steel receptacles or dark glass bottles to preserve it and protect it from light and air.
It's those containers and bottles that you find so lovingly placed on the shelves of your local supermarket, just waiting to be bought and poured into your favorite keto-friendly recipes!
What Makes a Good Olive Oil?
So, what factors should you consider when picking out the best extra virgin olive oil or the best olive oil to buy? Here a few things to look for when picking out a premium oil for your pantry:
100% EVOO: The best brands contain 100% olive oil and nothing else. Full stop.
Low Acidity: The lower the acid, the higher the quality. Aim for 0.8% acid or less.
Freshness: Olive oil is freshest if consumed between 18 and 24 months of the harvest.
Certifications: PDO or PGI certified olive oil indicates it was made in a region known for high-quality olives using environmentally-friendly, traditional methods.
DOP and AOP: Some regions will adorn the bottle with a DOP or AOP designation, indicating the oil meets stringent production and quality standards.
Taste: Of course, none of the above matters if you don't like the taste! Olive oils range from mild flavors to robust profiles. Pick one that pleases your palate!
Are All Cooking Oils Good for Keto?
There's almost always room for olive oil in keto diets, but what about other cooking oils? Are those keto-friendly too? Generally speaking, cooking oils contain high fat content and minimal carbs, making them ideal for keto, but not all oils will fit the bill.
The best oils for keto diets include:
Olive Oil
Coconut Oil
Avocado Oil
Butter
Ghee
Mid-tier options include:
Sesame oil
Macadamia nut oil
MCT oil
Vegetable oil
Soybean oil
Corn oil
Canola oil
Sunflower oil
Peanut oil
The following oils are not keto-friendly:
Safflower oil
Cottonseed oil
Is Extra Virgin Olive Oil Even More Keto Friendly?
Extra virgin olive oil is considered one of the best choices for a ketogenic diet. Its combination of low carb content, high content of healthy fats, and numerous other health benefits align well with the principles of keto.
Considering it's tasty and widely available, it's overall an excellent choice.
Is Olive Oil Better Than Butter When It Comes to Keto?
Butter works for ketogenic diets, but is it better than olive oil?
Olive oil is known for its healthy monounsaturated fats, low carbohydrate content, high concentration of antioxidants, and overall versatility that works with a wide range of dishes. Likewise, butter is rich in saturated fats, low in carbs, rich in flavor, and works exceptionally well when baking.
One of the key differences between olive oil and better is the smoke point. Olive oil will retain its quality at higher temperatures than butter, so, if your recipe calls for medium to high heat, olive oil beats butter. Butter, on the other hand, does add a certain rich flavor that lots of people love and that is widely used to create delicious meals in restaurants. Want to know why food tastes so much better in restaurants than when you cook it at home? It's because they use lots of butter, olive oil, and salt, yummy!
Ultimately, it depends on application, personal preference, and what the rest of your diet consists of. In moderation, both butter and olive oil work well for keto diets.
Zoppler is reader supported and may earn affiliate commissions from links on this page. We support and believe in all the products and services we promote and are affiliated with.