Protein, protein, protein! It's every modern athlete's love language. Head to your local gym, and you'll see shaker bottles, snack bars, and powder tubs littered throughout the locker room.
Despite the benefits of protein for muscle building being scientifically proven over and over, the average dietary pattern for Americans still hasn't seen significant change.
Part of that may be due to an unease surrounding protein supplements, as many people aren't sure how to sort out the all-natural options from those synthesized with chemicals and other hard-to-pronounce ingredients.
Luckily, there has been a wave of innovation in the market, leading to more effective organic protein powders that fit any diet.
The Difference Between Non-Organic and Organic Protein Powder
Choosing the right supplement can be tough when it comes to fueling your body, especially in a fitness regimen. Here's how to tell the difference between non-organic and organic protein powder.
Source of Ingredients
The primary difference lies in ingredient sourcing.
Organic protein powders are derived from plants and animal products grown or raised without synthetic pesticides, chemical fertilizers, antibiotics, or growth hormones.
Conversely, Non-organic protein powders can contain ingredients that have been genetically modified or treated with synthetic chemicals.
Preservatives and Additives
Non-organic protein powders can contain artificial colors, flavors, sweeteners, and other additives, while organic powders use natural sweeteners and flavors and have no artificial additives.
Nutrient Profile
Due to the absence of harmful pesticides and chemicals, organic protein powders generally retain a richer nutrient profile than non-organic options. They often have higher levels of vitamins, minerals, and antioxidants that benefit health and wellness.
The Benefits of Going Organic
"Going organic" is more than just a trend—it can bring several tangible benefits to your body, overall health, and the environment.
Reduced Exposure to Chemicals: Organically sourced foods, including protein powders, are free from chemical pesticides, herbicides, and fertilizers commonly used in traditional farming. By choosing organic, you slash your exposure to these potentially harmful substances.
Enhanced Flavor: Many consumers find that organic products often taste better. This is largely due to the healthier soil and organic farming practices, which can produce healthier, more flavorful crops.
Sustainability: Organic farming helps maintain healthy soil, reduce water pollution, conserve water, use less energy, and reduce overall carbon footprint. So, while benefiting your body, you're also doing your part to support the planet.
No GMOs: Organic products, by law, cannot contain genetically modified organisms (GMOs). Many consumers choose organic to avoid GMOs often found in non-organic food products.
Organic protein powder is a potent tool for those interested in maximizing their health benefits and minimizing their environmental impact.
As always, your personal health goals, preferences, dietary restrictions, or allergies should guide your protein powder selection.
Types of Organic Protein Powder
You won't have trouble finding an organic protein powder, but you might struggle to know which is the best for you. Here are four major categories:
Whey Protein
Whey is one of the most popular types of protein powders and is derived from dairy. It's a complete protein containing all nine essential amino acids your body needs.
It's quickly and easily absorbed by the body and is particularly high in leucine, an amino acid that's crucial for muscle growth. Organic whey protein comes from cows raised according to organic farming standards, offering a more natural and cleaner alternative to traditional whey protein.
Vegan Protein
Vegan protein powders are an excellent source of protein for those adhering to a vegan diet. They are typically made from plant-based sources like peas, rice, hemp, chia seeds, quinoa, or a blend of multiple plants.
Vegan proteins are generally high in fiber and essential nutrients but often must be consumed in a blend to ensure all essential amino acids are present.
Vegetarian Protein
Vegetarian protein powders, like vegan options, are usually derived from plant-based sources but can also include egg white powder.
They're also suitable for those following a lacto or lacto-ovo vegetarian diet. Some vegetarian protein powders might also contain dairy-derived proteins like casein or whey, so carefully reading the label is important.
Carnivore Meat Protein
Carnivore meat protein powders come from animal sources like beef, chicken, or fish. These protein powders are ideal for those following a carnivorous diet or individuals intolerant to plant-based or dairy-based proteins.
They deliver a complete amino acid profile and can be a great tool for building and repairing muscles. Organic meat-based protein powders ensure the highest possible quality, sourced from animals raised without hormones and antibiotics.
5 Best Organic Protein Powders
Here are the top five organic protein powders that are highly rated by users and fitness experts: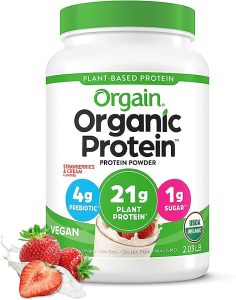 This 100% organic and vegan protein powder by Orgain is one of the most popular options on the market. The flavors it comes in look amazingly delicious – chocolate coconut, chocolate peanut butter, creamy chocolate fudge, iced coffee, peanut butter, pumpkin spice, strawberries and cream, and vanilla bean. With each serving (2 scoops), you get 21 grams of protein, 180 calories, 16 carbs, and only 1 gram of sugar. It's tough to be those stats! The protein in this Orgain option comes 100% from plants – peas, brown rice, and chia seeds. If the fact that this is organic and vegan isn't enough for you, then you should also know that it's gluten free, dairy free, lactose free, soy free, kosher, doesn't use GMOs, and still tastes great. We suggest trying the strawberries & cream flavor, it's like you're having a special little cheat treat.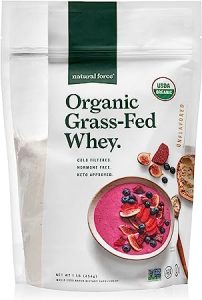 Natural Force was founded back in 2009 by two brothers who were tired of crappy low quality supplements, and they are still going strong today with their super clean, lab tested supplements. The whey protein used in this is sourced for heritage Jersey cows, a special breed, that only eat fresh California grass all day (yes, these Jersey cows live in CA, lucky!). What's cool is that their packaging is a lightweight bag that is made from recyclable BPA-free plastic, using 70% less plastic than regular tubs. Each serving size (1 scoop) has 180 calories, 20 grams of protein, 2 grams of carbs, and only 1 gram of sugar. This is a very low-carb keto friendly protein option that packs a punch. What are the flavors? Well, they are very simple in that regard because they only offer chocolate, vanilla, and unflavored, so they better be good.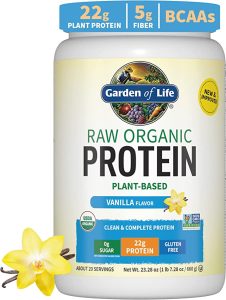 Garden of Life has somewhat of a cult following, and with the 23,000+ reviews on Amazon it is to no surprise of the Team here at Zoppler. Their big pitch is the process in which the protein is made, along with their recipe formula – it's supposed to create a very silky smooth and easily dissolvable protein that also tastes great. They boast that their vanilla flavor is the best, but from the reviews it looks like chocolate might be giving vanilla a run for its beans. Each serving size is 1 scoop and contains 130 calories (on the lighter side), 22 grams of protein, 6 grams of carbs, and 0 grams of sugar. This all-vegan organic product is of course made with plants, but to be specific – peas, sprouted grains, seeds, and legumes. It also has added vitamins and minerals to deliver a full pack of nutrients to your hungry, and hopefully growing, muscles. It almost goes without saying, but it's also GMO-free, kosher, gluten free, and has all the proper certifications to prove it. After looking at the nutritional facts, it appears it has a healthy dose of iron and Vitamin E too.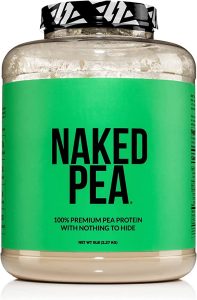 Pea protein is one of the most popular sources of plant-based proteins, and this Naked Pea option from Naked Nutrition is one of the best 100% pea proteins out there. Pea protein can be quite disgusting, but people seem to agree that their chocolate and vanilla flavor options do a great job of masking the negative taste qualities of pea protein. This product is made with 100% yellow pea protein and is 100% GMO-free. Each serving size is 2 scoops and has 120 calories, 27 grams of protein, 2 grams of carbs, and only 2 grams of sugar, making it a great low-carb and low-sugar option. The great part about organic protein is that no artificial flavors can be used, and Naked Nutrition only uses the highest quality vanilla and chocolate to flavor their powders. You can choose from the 1 pound or 5 pound option, and it's priced right!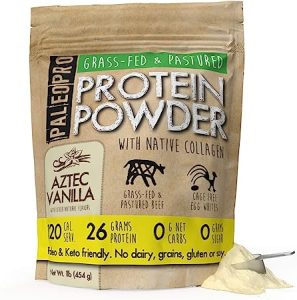 The first thing we want to point out about PaleoPro's organic paleo protein powder is that it contains eggs, which is good! Most proteins are either made with whey, plants, or meat, so it's nice to see an option that uses the chicken's birthing vessel. If you follow the paleo diet, then it's likely you already have this, but if not, the decision should be easy for you. Each serving is just 1 scoop and contains 120 calories, 26 grams of protein, 1 gram of carbs, and 0 grams of sugar. Not only do the flavors have cool names, but they look really yummy too – Ancient Cacao, Aztec Vanilla, Mayan Mocha, and Mocha Mint. This paleo protein is made from grass-fed pastured cow whey, and it also has added collagen for an extra bonus. If the extra collagen isn't enough for you to pull the trigger, then please know it also has sunflower lecithin (which is great for skin, brain function, liver health, inflammation help, etc.) added and monk fruit extract to help sweeten it.
Zoppler is reader supported and may earn affiliate commissions from links on this page. We support and believe in all the products and services we promote and are affiliated with.