Busy parents, hardworking professionals, and diligent fitness enthusiasts know meal prep is the secret to maintaining a healthy and organized diet. Portioning out your breakfast, lunch, and dinner with detailed precision keeps you on track and saves you time and effort throughout the week.
But just 43.6% of Americans are actively meal prepping, with Texas residents doing it the least. Part of the reason? More than 15% of people think that the food will go bad before they can eat it.
That's why having the right containers is essential to preserve your food's freshness and nutritional value effectively. Investing in quality meal prep containers ensures your food stays tasty and adds convenience to the meal prep process.
This article will explore the top five meal prep containers that can elevate your diet game, help you avoid waste, and make meal prepping an effortless part of your weekly routine.
Good Meal Prep Containers are Life Changers
Meal prep containers can revolutionize the way you plan and manage your meals. Investing in a set of high-quality containers could be the first step towards a healthier, stress-free lifestyle.
Here's why:
Ensure Nutritional Balance
Good meal prep containers allow you to portion out balanced servings of different food groups, helping you stay on track with your dietary goals. By preparing your meals in advance, you can ensure that each meal achieves the right balance of protein, carbs, and fats.
Preserve Freshness
The right containers can effectively retain the freshness of your food, ensuring that it tastes as good on day four as on day one. They keep your food sealed off from external factors that can degrade the quality and taste of your meals.
Reduce Food Waste
With sturdy containers, you don't have to worry about your prepared meals going bad. Grocery bills are only getting more expensive, so avoiding any spoilage helps the wallet and the waistline. And if you opt for meal prep containers that are washable, that means you are reducing waste when it comes to packaging and serveware too.
Saves Time
Paired with a well-thought-out meal plan, these containers enable you to prepare meals in bulk, freezing or refrigerating individual portions to be heated and eaten later. Also, you don't have to spend time thinking about what you're going to eat, because deciding can be tough sometimes.
Convenience and Portability
High-quality containers are often stackable, easy to carry, and microwave/dishwasher-safe. Whether you're taking your meal to work or planning a picnic, they promote easy transport and consumption.
Healthier Choices
When you've got a fridge full of delicious, pre-portioned meals, you're less likely to opt for unhealthy and costly last-minute takeaways. Having your meals ready can help greatly in sticking to your diet.
Different Material Options
When choosing meal prep containers, the material is an important factor to consider. Each type of material, be it plastic, glass, or silicone, carries its own set of benefits and potential drawbacks to take into account.
Plastic Meal Prep Containers
Plastic containers are lightweight, inexpensive, and convenient for transporting your meals.
They also come in various sizes, shapes, and colors to suit your needs. However, it's crucial to ensure they are BPA-free to avoid potential health risks linked to food being in contact with certain plastics, especially if you are heating up your food in them. Plastic containers are more prone to staining and odor retention than other materials.
Glass Meal Prep Containers
Glass containers are generally more durable, long-lasting, and can safely go straight from your fridge to your microwave or oven without contamination. They don't retain odors or stains, making them easy to clean.
However, they are heavier than their plastic counterparts and can be broken, which might reduce their portability factor. Additionally, they tend to be more expensive but offset this with their longevity and sustainability.
Silicone Meal Prep Containers
Silicone containers are flexible, durable, and lightweight. Unlike plastic, they don't retain odors or stains; like glass, they're safe for the microwave, oven, freezer, and dishwasher.
Plus, most silicone containers are collapsible, making them space-efficient when not in use. While they tend to be more pricey than plastic containers, their versatility and longevity often justify the initial cost.
Different Shapes & Sizes
The best part about meal prep containers is they offer an array of shapes and sizes to accommodate a variety of meals and dietary needs.
Round Containers: Great for soups, stews, and salads. They are easy to clean with no corners or angles where food can accumulate. However, they might not be as space-efficient as their rectangular or square counterparts when stacking them in your fridge or lunch bag.
Square and Rectangular Containers: These shapes are excellent for storing an assortment of foods as they generally offer more volume and are better suited for meal portions. They also stack neatly in your fridge or cooler bag, maximizing space.
As for sizes, you'll typically find:
Small Containers (1 to 2 cups): Perfect for holding snacks, fruits, nuts, and maybe even a small salad.
Medium Containers (2 to 4 cups): These are versatile and can be used for full meals like a sandwich or a wrap, with some salad on the side.
Large Containers (4 to 8 cups): Ideal for making meal preps of larger meals, like dinner entrees. These also store leftovers or batch-cooked items like grains, pasta, or proteins.
Divided Containers: These containers have built-in dividers, allowing you to store different meal components separately. It's ideal for meals where you want to prevent the flavors from mixing or for portion control.
The diversity in shape and size of meal prep containers encourages customization of your meals and enhances the neatness of your refrigerator.
5 Best Meal Prep Containers to Up Your Diet Game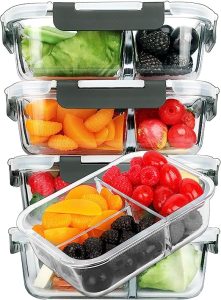 Whether you are doing weekly meal prepping to lose weight, bulk-up, or save time with your kids' meals, these 3 compartment glass containers from M MCIRCO are an excellent option for meal prep. They are made from borosilicate glass, which is a heavier and more durable glass than other types and can also be transferred directly from the refrigerator to the microwave without breakage. These are BPA free and completely safe for kids and adults alike. One of our favorite features is their smart-locking lids, which makes it easy to know your food is secure from air-rot. The silicone sealers even come out separately so you can clean them properly. The 3 compartments are created by glass dividers, which makes this a very high-quality product, and with over 7,000 reviews averaging out to a 4.7 star rating, you can be sure that you will also be a very satisfied customer. The cherry on top – choose different lid colors – gray, green, and white.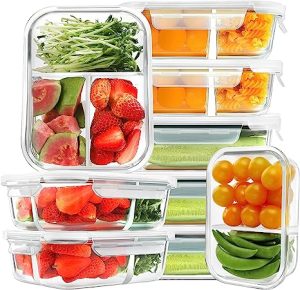 Having trouble deciding how many compartments you need? Ponder no more, because HOMBERKING offers this awesome set of 9 containers that come in a mix of 1, 2, and 3 compartments. Not only can these containers withstand temperatures from -4 to 752 degrees Fahrenheit without getting damaged, but they are made with a very unique leak-proof design that is sure to keep all of those food juices and sauces where they belong, even if they have been bouncing around in your bag. The borosilicate glass these are made from makes it easy to clean and helps them avoid staining and getting stinky. Even though they have different compartments, these are still stackable so they can be tucked away nicely in your cupboards. Being freezer safe, dishwasher safe (not the lids), microwave safe (not the lids), and oven safe (not the lids), this multi-set could be the perfect addition to your nutrition routine.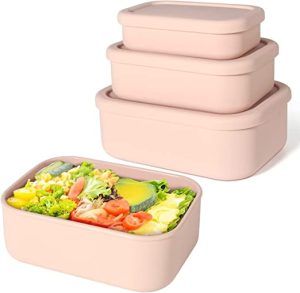 With under 100 ratings on Amazon and a 4.6 star rating, we think this newer product is a monster in the making. If you don't want to deal with heavier and more bulky glass containers, then this great silicone option from Keweis is perfect for you. The only downside to these is that they don't have separate compartments within, but depending on what you are preparing and eating that might actually be a bonus for you. You get 3 different sizes with this pack, and you can choose pink, green, or dark blue. They are stackable, so very easy to store. One big plus with silicone – light does not get in like it does with glass, so if you want something to stay cool for longer, these will work much better. Keweis makes these containers from premium food-grade silicone, and they are BPA free, don't deform, and safe for freezing, microwaving, oven use, and dishwasher use too. Lastly, they even have liquid volume marks on the inside, which can make measuring out perfect portions much easier.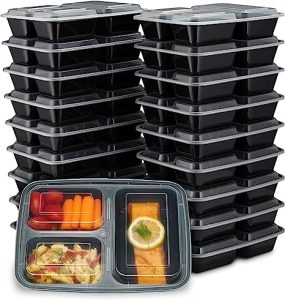 With about 25,000 reviews on Amazon averaging out to a 4.5 star review, these plastic prep containers from Ez Prepa might be the most popular ones on the planet. Sure, we know what you're thinking – "plastic sucks!" – but in some cases it does not always suck. You get a 20 pack of these for a very affordable price, so if it comes down to it you can throw it away if you are on the go and don't want to deal with cleaning it and/or bringing it home. They have one big compartment for your main course, and 2 equal size smaller compartments for your sides. They are stackable, reusable, microwave safe, dishwasher safe, and overall very convenient for the type of meal prep people use them for. In case you're wondering, yes – they are made with very high-quality plastic and food-grade materials.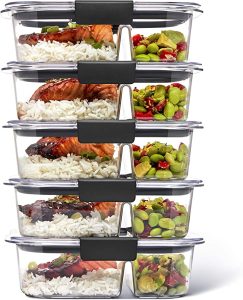 When it comes to storage, Rubbermaid is one of the most trusted brands ever, so it's not surprising they offer a great solution for meal prep storage. By using their special StainShield plastic, their containers are much lighter than glass, so if you use them on the go this could be to your advantage. The plastic they use is 100% BPA free, and of course safe for the dishwasher, freezer, and microwave. This 5-piece set is from the Rubbermaid Brilliance line, and we can attest they are truly brilliant. They call it the Brilliant line because the plastic remains brilliantly clear and clean, keeping it 'in the clear' from stains and odors from food like lasagna and meat loaf. The lids have easy-snap seals and are 100% leak proof. Having 2 compartments could be the perfect option for you. After all, are you always going to have 3 things to eat, or only just 1?
Zoppler is reader supported and may earn affiliate commissions from links on this page. We support and believe in all the products and services we promote and are affiliated with.