Are you ready to plunge into the invigorating world of matcha? Ranked high on every wellness enthusiast's radar, matcha is a powder of profound power.
It's got all your well-being checkboxes ticked—weight loss, energy boost, antioxidant enrichment, and yes, an incredible taste! With so many possibilities in a pinch of powder, it's not surprising that matcha is making waves in health-conscious communities around the globe.
This article dives into the top 10 matcha weight loss and energy products users absolutely adore. So prepare yourself for a brew-tiful journey brimming with vibrant greens.
You're just a sip away from unlocking a healthier you!
Matcha is Trending Hot for a Reason
Brimming with vibrant green hues and an unparalleled reputation, matcha is not a mere trend—it's a nutritional revolution gaining rapid and widespread traction.
Steeped in history and healthful benefits, matcha hails from Asia, where it has been a critical element of traditional tea ceremonies for centuries. Used by Zen Buddhists to bring about mental clarity and relaxation, this powdered tonic embodies more benefits than just its calming quality.
Several scientific studies suggest that matcha, specifically its dominant catechin 'EGCG,' contributes to enhanced fat oxidation. The thermogenic properties of this rich antioxidant promote greater energy expenditure and fat burning, making it a popular ally in weight management programs.
Matcha is also packed with L-theanine, an amino acid that aids physical energy boost and mental clarity, promoting overall well-being.
However, while the hype surrounding matcha is deserved, it's crucial to stress that it isn't a magical weight loss cure. Instead, it's an empowering supplement that can provide a broad spectrum of nutrients and enhance the effectiveness of weight loss programs when paired with healthy lifestyle practices.
What Does Matcha Taste Like?
The first encounter with matcha might be a surprise, as it defies the typical notions of 'tea.' Its flavor breaks the confines of the usual bitter teas you may be familiar with.
Matcha has a unique taste profile. Its most defining characteristic is its vegetal, grassy notes—a nod to the vibrant green, shade-grown tea leaves it is prepared from. There's a characteristic initial bitterness on the first sip, but don't be deterred. This bold note quickly gives way to a profound sweetness that lingers on your palate.
One might also sense slight umami tastes, highlighting its richness. This savory component, often compared to the taste of seaweed or cooked vegetables, provides a great depth to matcha's flavor profile.
How Does Matcha Grading Work?
Starting from the nurturing of the Camellia sinensis plant to the vibrant green powder in your cup, there is a meticulous process steeped in tradition and care.
A significant part of this process is matcha grading. Understanding it will help you appreciate the difference in taste, texture, and health benefits the various classes provide, allowing you to choose the right grade for your purpose.
Matcha grading is essentially based on several factors:
The specific part of the tea plant used
Growth conditions
Processing methods
Product's taste, texture, and color
Generally, it is categorized into two primary grades.
Ceremonial Grade Matcha
This is the highest quality matcha, made from the youngest, most tender tea leaves that are shade-grown for about three weeks before harvest. After harvesting, the stems and veins are removed to create a finely milled, bright green powder.
Ceremonial Grade Matcha offers an exceptional, smooth taste with a fascinating blend of sweetness and umami. It is typically used in traditional Japanese tea ceremonies and intended to be whisked with hot water and enjoyed straight.
Culinary Grade Matcha
Culinary Grade Matcha uses slightly older leaves harvested from lower on the tea plant. It's more robust and bitter than the Ceremonial Grade and is less vibrant in color.
Due to its stronger flavor, it's perfect for cooking and baking, where the matcha flavor needs to come through, or when mixed with other strong flavors in lattes or smoothies.
We can further break down Culinary into five additional sub-grades:
Premium: This is considered the most superior grade within the culinary category. It is made from high-quality leaves, just below ceremonial grade. The flavor is relatively delicate, with a pleasant aroma and slight sweetness, making it ideal for cooking and drinking.
Café: As the name suggests, this type of matcha is ideally suited for café drinks like lattes, smoothies, or frappes. It has a strong, distinct flavor that shines through the taste of milk or other ingredients.
Ingredient: Crafted for blending and mixing into recipes, this grade has a robust flavor profile—bold and high in tannins. It adds a beautiful color and a distinctive taste of matcha to any dish while maintaining its strong flavors, even when combined with potent ingredients.
Kitchen: This is your go-to for everyday matcha needs in the kitchen. It is quite bold and robust and often possesses a slightly astringent note.
Classic: Classic grade offers a balance between quality and value. It's a versatile and economical grade, great for experimenting and exploring matcha-infused dishes.
Each level of matcha provides a unique taste, color, and texture, making it conducive to different culinary applications.
Types of Matcha Energy and Weight Loss Products
You'll find various options designed to boost energy and catalyze weight loss. Here's a breakdown of the main matcha products:
Matcha Powder: This is the most common and versatile form of matcha. Ideal for users who value control over the potency of their matcha.
Matcha Tea: Pre-packaged matcha tea bags provide an easy and convenient way to consume matcha, especially for those on the go.
Matcha Pills or Capsules: For those not too fond of matcha's taste or those looking for a more convenient way to consume it, matcha pills are the perfect option.
Ready-Made Matcha Drinks: For a fast, on-the-go energy fix, ready-made matcha drinks are popular. These bottled beverages, like matcha lattes or matcha-infused energy shots, combine convenience, flavor, and health benefits without preparation.
Choose a product that best suits your lifestyle and preferences, and let matcha be the radiant green light guiding you toward your health goals!
Top 10 Best Matcha Weight Loss and Energy Products
There are thousands of products, but we've distilled the list into ten outstanding matcha energy offerings.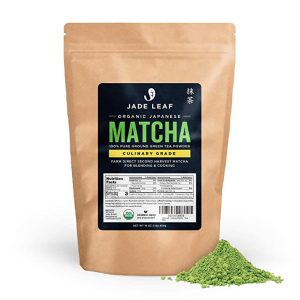 With over 90,000 reviews averaging out to a 4.5 star rating, this matcha powder by Jade Leaf is confirmed to be one of the best and most popular matcha products you can buy. Not only is the Jade Leaf matcha powder 100% certified organic, but it comes with the trusted sustainability certification. This powder is made from matcha tea lives grown in the Uji and Kagoshima regions of Japan, and those family owned farms are known to produce a very flavorful and nutrient rich matcha. Less than 1% of Japanese tea farms are certified organic, so this item is always in high demand. They offer 4 different sizes, from Starter Size all the way up to Bulk Size for the serious matcha lover.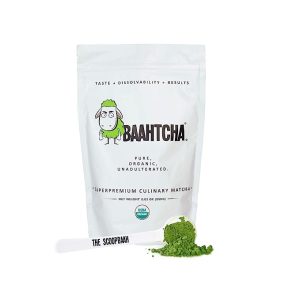 Baahtcha is a well-known brand in the matcha space, and for good reason. They grow their matcha in the hills of "the Far East," and they managed to also secure a 100% organic certification. They grow their leaves in the spring, which they claim gives it the best flavor possible, and it is stored only in cool dry environments during the off season to keep it super fresh. This is culinary grade matcha, which means it's mainly used for cooking and baking, and has enhanced flavor profiles that allow you to successfully inject that wonderful matcha flavor into whatever culinary creation you have in mind. Each serving contains about 25mg of caffeine, 253mg of catechins, and 205mg EGCG (epigallocatechin gallate – the main polyphenol that matcha contains).
If harnessing the energy power of matcha is your goal, then you need to try these energy shots from Matcha Love. With over 1,100 reviews averaging 4.4 stars, lots of people say "You taste the matcha at your very first sip, and it's all matcha." Since so many matcha products have added crap in them, it's good to try and find products that really are pure matcha, and taste like it too. This product is reported to have a very good matcha flavor, and the energy it provides is supposed to be clean, level, and smooth. This is perfect for people who don't drink coffee but are looking for a nice energy boost. They come in packs of 12 and 20, and you can also just buy 1 if you want to get a sample of it. What's really cool is you can get them sweetened and unsweetened, so whether you have a sweet tooth or are looking to shed some pounds, they have the option for you.
With the 2nd highest prestigious grade possible in the matcha world (after Premium Ceremonial), Pique brings you a Ceremonial grade tea powder that people love. Ceremonial means this matcha powder is some of the purest available and was made from leaves grown in the shade within the birthplace of matcha. It was stoneground for freshness in the early spring and tastes divine. Pique boasts their cold extraction technology, triple toxin screening, and ultimately a product with maximized phytonutrients. These leaves were sourced direct from Kagoshima, which is the furthest point possible from industrial radiation and pollution, which helps it achieve the coveted ceremonial grade. One customer highlights some of the benefits Pique was aiming for: "This matcha is tasty and the individual packets are very convenient. Also, it dissolves very easily and is not at all clumpy which is my main gripe with other brands."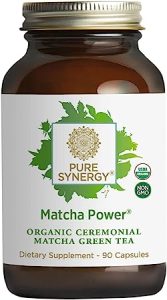 If the more drawn-out process of drinking teas and smoothies is not for you, then these matcha capsules by PURE SYNERGY might be the way to go. Made from 100% USDA organic ceremonial grade matcha, these capsules provide you with an easy way to get a quick 1,500mg dose of the green goodness. PURE SYNERGY harvests their matcha in the early spring, where they say they hand inspect each leaf to make sure it is of the highest quality. They prepare the leaves using ancient traditional methods – slowly cold-milled into a very fine powder, which makes it easy to digest. They also have a patented ceramic stone mill with diamond tips, and that helps get it as fine as possible. With the PURE SYNERGY tea farm located at the base of Mount Fuji, these matcha capsules are sure to give you all of the wonderful magical benefits of matcha, but with the ease of swallowing a simple capsule.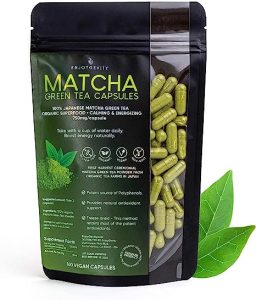 With about 750mg of matcha per capsule, these Japanese matcha green tea capsules provide a potent source of  polyphenols, helping to protect from certain types of cancers, diabetes, neurodegenerative diseases, and cardiovascular diseases too. These EnjoyGevity capsules are certified ceremonial grade, and they suggest taking 3 per serving. With only 9 ratings and a 3.6 star review, we feel this item is not getting the credit it deserves. Pure matcha is pure matcha, and these capsules are freeze dried for freshness and come in lower doses than most matcha capsules, allowing you to custom tailor your dosage to your needs. Each bag comes with 160 pills, which is a great amount for the price. If you are looking for a quick and easy way to harness that matcha energy boost, then this is a great option.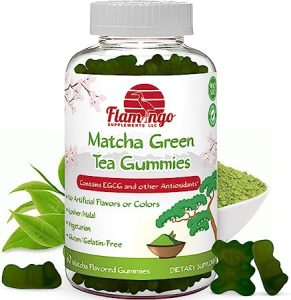 Are you somewhere in the realm of "I don't want to drink an entire tea, but I don't want to just swallow a pill since I do like the taste of matcha"? Well, these matcha gummies could be the perfect answer to your dilemma. With the natural metabolism boosters that help with weight loss and are found in all pure matcha products, these gummies will help you get that lovely matcha flavor in a couple quick chews while providing you all the great benefits of matcha. Instead of having to swallow pills, which is never fun, you get to enjoy these gummies that people report "tasted really good and weren't too soft or too hard." If you are currently taking multi-vitamin gummies, then these could be the perfect addition to your daily gummy stack. While they don't boast about having an organic product or special growing process, Flamingo Supplements prides themselves on being able to turn that terrific matcha leaf into delicious, nutritious, easy-to-eat gummies.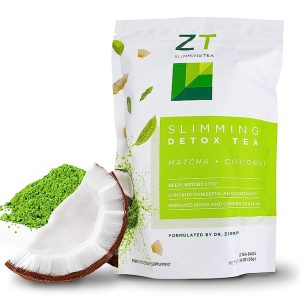 If you're looking for something extra when it comes to flavor, then you have to try the well-balanced flavors of coconut and matcha together. This Dr. Zisman ZT Slimming Tea showcases what has proven to be an awesome flavor combo, and this specific recipe was crafted by Dr. Zisman himself. Dr. Zisman is a Harvard endocrinologist that is an expert on metabolism, hormones, and nutrition, so the fact that he recommends this for help with weight loss shows a lot. He worked with tea masters in China and Indonesia to learn how to develop the perfect tea blends, and this matcha coconut mix does not disappoint. Not everybody is a fan of pure matcha flavor, so having that sweet and tropical coconut flavor is meant to make it palatable for everybody. This product does not promote that it has organic stamps and high-level matcha grading, but we highly doubt this Harvard doctor would put forward a product he is not 100% proud of. Each bag comes with 28 tea bags, so the price makes it an amazing value.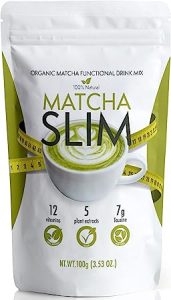 Are you looking for something that goes beyond just your typical pure good matcha? Well, this is it! Matcha Slim has come up with an amazing blend of matcha, taurine, Spirulina, and all sorts of vitamins to give matcha weight loss and energy seekers the full stack of nutrients they're looking for. For the price, there better be some special stuff in there, right!? Well there is…..not only does it contain Spirulina, which in itself is a nutrient packed green substance with all sorts of health benefits, but it also has added taurine (for energy), vitamin D, calcium, iron, potassium, vitamin A, vitamin C, vitamin E, thiamin, riboflavin, niacin 1, vitamin B6, folate, vitamin B12, biotin, and pantothenic acid. We won't go on and on about the numerous benefits that these added vitamins and nutrients provide, but we will mention that the presence of vitamin B12 is enough to get excited about and warrant the high price tag. Vitamin B12 is not cheap, and it is one of the cleanest and most effective natural substances that is used to energize people.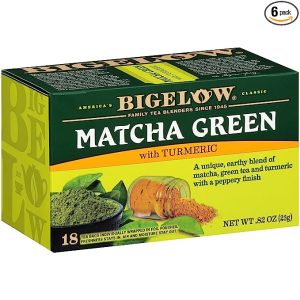 We wanted to bring you another flavored matcha option, and we think the matcha green tea with turmeric from Bigelow is the perfect addition to our list. With about 20,000 reviews that average out to 4.8 stars, this matcha turmeric tea is pretty much a trend in its own right. Not only do you get all the wonderful health benefits, weight loss promoters, and energy boosters from the matcha, but you also get the health benefits and flavor profile of the turmeric. Turmeric is known to have positive effects like reducing inflammation, improving memory, lessening pain, lowering the risk of heart disease, and more. The ginger-like sweet mild curry-ish notes of the turmeric blend well with the sweet tea flavors of the matcha, creating an extremely healthy tea that people are apparently loving, a lot! You can order them in boxes of 18, 20, and 40 tea bags, but hurry up because the demand is very high for this item. It's worth mentioning that this product is also Kosher certified, and Bigelow Tea has been around since 1945.
Zoppler is reader supported and may earn affiliate commissions from links on this page. We support and believe in all the products and services we promote and are affiliated with.